January 8, 2020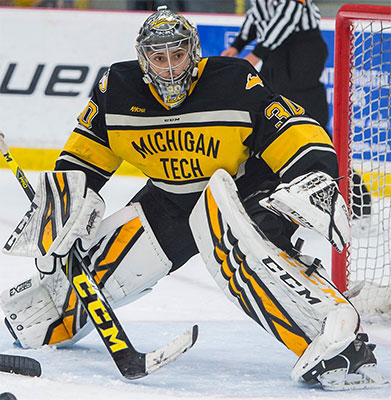 Arizona Coyotes President of Hockey Operations and General Manager John Chayka announced that the Coyotes have recalled former NAHL and Minnesota Magicians goaltender Ivan Prosvetov from the Tucson Roadrunners, the club's American Hockey League (AHL) affiliate. The 20-year-old Prosvetov has posted an 11-3-0 record with a 2.38 goals against average (GAA), a .931 save percentage (SV%) and a shutout in 15 games with the Roadrunners this season. The rookie netminder ranks third in the League in SV% and has the eighth-most wins of any AHL goaltender. Prosvetov was originally drafted by the Coyotes in the fourth round (114th overall) in the 2018 NHL Entry Draft. He played in the NAHL during the 2016-17 season for the Minnesota Magicians and also played in the 2017 NAHL Top Prospects Tournament.
Atlantic Hockey Goalie of the Month: Josh Benson, Sacred Heart (Fairbanks Ice Dogs)
Josh Benson backstopped Sacred Heart to a 4-1-0 record in December, helping the Pioneers jump into the top spot in Atlantic Hockey and a national ranking. He ranked third in Atlantic Hockey amongst qualified goaltenders in both goals against average and save percentage, but he was first in those categories amongst goalies with more than two starts. Benson led the AHA and tied for the lead nationally with two shutouts, those coming at home against Robert Morris and Bentley. The shutouts were part of a six-game win streak that dated back to November 22nd and included four-straight wins in December. Benson's month-high for saves was 32, which came in a 6-0 win over Robert Morris, and he had 20-plus saves in two other Sacred Heart victories. He also recorded his first career point, getting credit for an assist in a win over AIC.
Atlantic Hockey Rookie of the Month: Anthony Firriolo, Army (Corpus Christi/Amarillo/WBS Knights)
Anthony Firriolo entered December with two career points on two assists, but something clicked for the freshman blueliner, since in five December games, the rookie had seven points on three goals and four assists. He was the leading rookie and defenseman scorer in both Atlantic Hockey and the NCAA and tied for second and fourth, respectively, in scoring overall for the month. Firriolo had a three-game point streak to open the month, and overall, scored in four of five games. Army was 3-1-0 when Firriolo registered a point as he became yet another reliable defenseman in Army's attack. He had two multi-point games, including his first multi-assist game, a three assist effort in a 4-0 win over Robert Morris.
ECAC Rookie of the Month: Nick Abruzzese, Harvard (New Jersey Titans)
Abruzzese also registered six points in December, scoring goals in Harvard's final four games of the month. He finished with four goals and six assists to lead the leagues rookies in scoring. In the series against nationally-ranked Arizona State on December 28-29, Abruzzese scored a pair of goals and added an assist to help the Crimson to a 1-0-1 weekend.
ECAC Goaltender of the Month: Corbin Kaczperski, Yale (Lone Star Brahmas)
Kaczperski was nothing short of spectacular during the month of December, earning consecutive MAC Goaltending Goalie of the Week honors on December 9 and 16 for his performances. He ended the month ranked first in the league in both GAA (0.67) and save percentage (.979), going a perfect 3-0.
WCHA Defenseman of the Month: Eric Gotz, Michigan Tech (Minnesota Wilderness)
Michigan Tech sophomore Eric Gotz led WCHA and shared the NCAA lead in scoring among defensemen in December with seven points on a goal and six assists for the Huskies. The Hermantown, Minn., native netted the game-winning goal for MTU in a come-from-behind, 4-2, win over No. 18/UR Michigan State in the semifinals of the Great Lakes Invitational on Dec. 30 and added a pair of assists in the tourney to earn a berth on the all-tournament team. Three of his seven points for the month came on the power play (three assists). Gotz also blocked seven shots and was +3 for the month. He enters the new year on a run of 12 points (3g-9a) over his last 12 contests. Gotz ranks fifth in defensemen scoring in the WCHA this season with 13 points on four goals and nine assists. This is his first WCHA monthly award.
WCHA Goaltender of the Month: Matt Jurusik, Michigan Tech (Janesville Jets)
Michigan Tech senior Matt Jurusik tied for the league lead with four wins in December, posting a 4-1-1 record with a 1.98 GAA and .925 save percentage. The La Grange, Ill., native was named to the Great Lakes Invitational All-Tournament Team after backstopping the Huskies to the tournament title with a pair of 4-2 wins over No. 18/UR Michigan State and Michigan. The senior netminder stopped 62-of-66 shots in the two wins, including a WCHA period season-high 20 saves in the opening frame of the championship contest with the Wolverines. This is his first WCHA monthly honor.
Atlantic Hockey Rookie of the Week: Jacob Barczewski, Canisius (Janesville Jets)
Jacob Barczewski extended his unbeaten streak to four games with a 1-0-1 weekend during a home-and-home series with RIT. He made 23 saves in a 1-1 road tie on Friday, then back at home on Saturday, the freshman netminder stopped 25 shots as the Golden Griffins pulled out a third-period victory. Barczewski posted a 1.92 goals against average and a 0.923 save percentage.
B1G Second Star: Jack LaFontaine, Minnesota (Janesville Jets)
LaFontaine backstopped the Gophers to the Mariucci Classic title, closing out 2019 with wins over Bemidji State and St. Cloud State. He made 52 saves on 55 shots over the weekend, posting a .945 save percentage and a 1.50 goals-against average. LaFontaine was named the Mariucci Classic Most Valuable Player and earned a spot on the Mariucci Classic All-Tournament Team.
NCHC Forward of the Week: Cole Koepke, Minnesota-Duluth (Minnesota Wilderness)
Koepke closed out the 2019 calendar year in strong fashion, racking up five points and scoring a goal in both games to lead the Bulldogs to a sweep at Merrimack on Sunday and Monday, Dec. 29-30. In the series opener on Dec. 29, the Tampa Bay Lightning draft pick tallied two points, scoring his first career short-handed goal to tie the game in the second period, while adding an assist on UMD's final goal in a 4-1 victory. He was +2 with two shots on goal in Sunday's win. The next day, Koepke compiled a career-high three points in a 5-1, sweep-clinching win. He opened the game's scoring late in the first period with his second goal of the weekend, while handing out assists on the Bulldogs' next two goals, including the game-winner. He was named First Star of the Game last Monday, finishing +3 with six shots on goal. Koepke finished the series with the Warriors with two goals, three assists, a +5 plus/minus and eight shots on goal. He also pushed his point streak to five games (5g, 4a), while he's tied for third on the team with 16 points and is second for UMD with eight goals on the season.
NCHC Goalie of the Week: Hunter Shepard, Minnesota-Duluth (Bismarck Bobcats)
Shepard was a rock in net against Merrimack on Dec. 29-30, allowing only one goal in each game, while backstopping the Bulldogs to a road sweep. In the series opener on Sunday, Dec. 29, the reigning NCHC Goaltender of the Year made 24 saves in a 4-1 victory, with the lone goal allowed coming on the power play. He was named First Star of the Game for his efforts, while making eight short-handed saves. A night later, Shepard compiled 16 saves in a 5-1 victory, while helping kill all three Merrimack power plays. He finished the series with a .952 save percentage and a 1.00 goals-against average, while totaling 40 saves on 42 shots in the two wins. Shepard also made 11 of his saves short-handed to help UMD's penalty kill finish the weekend 6-for-7. On the season, he has started all 18 games in net for the Bulldogs, going 11-6-1 with two shutouts, a .906 save percentage and a 2.29 GAA.