Tomahawks double up Nordiques on Monday, 4-2
December 31, 2019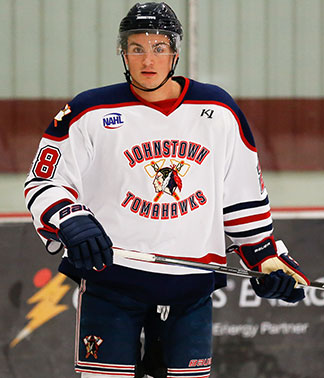 Maine 2 @ Johnstown 4 – Christian Gorscak and Spencer DenBeste each had three-point nights as the Johnstown Tomahawks defeated the Maine Nordiques 4-2 in the lone NAHL games on Monday night.
Johnstown wasted little time getting on the board, scoring two goals within the first two minutes of the game. The first came off the stick of Carson Gallagher, his team-leading 15th of the year, while the other was courtesy of Max Kouznetsov's 13th of the season. Maine responded about three minutes later, with Timmy Kent getting the tally, making it a 2-1 game at the end of one period.
Gorscak scored his 14th of the year midway through the 2nd period, adding to his team-leading points total (37) and giving the Tomahawks a 3-1 lead. Later in the period, Noah Kane scored to put Maine within one once again at 3-2.
The lone goal of the third period belonged to the Tomahawks on the power play just :27 seconds into the period, with DenBeste netting his 15th of the year and third point of the night. That was all Johnstown needed to secure the 4-2 victory.
Alex Tracy made 10 saves in the win, while Avery Sturtz made 11 saves in the loss.