Saturday Scores: Pilots, Steel, Bobcats complete weekend sweeps
December 29, 2019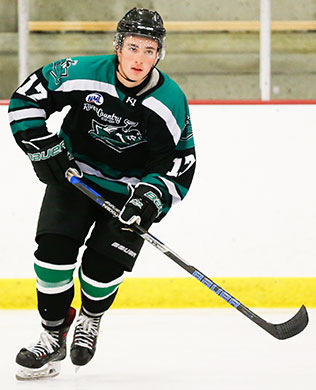 Topeka 3 @ Shreveport 2 – Austin McCarthy and Connor Zilisch each had a goal and an assist to lead the Pilots to a 3-2 win in Shreveport on Saturday, completing a weekend road sweep of the Mudbugs. A three-goal 1st period is all the Pilots would need as McCarthy, Zilisch, and John Gormley all scored within a span of eight minutes to put the road side ahead 3-0. The Mudbugs pulled within one goal with goals in the 2nd period from Ryan Waltman and Billy Feczko, but it would not be enough after the 3rd period went scoreless. Josh Langford made 17 saves in the win, while Richie Parent made 17 saves in the loss.
MN Magicians 4 @ Chippewa 6 – Steel forward Connor Szmul had two goals and two assists to lead the Steel to a 6-4 win on Saturday, which completed a weekend home sweep of the Magicians. The Magicians opened the game with an early goal from Marko Reifenberger, but the Steel answered with four straight goals from Jacob Decker, Killian Kiecker-Olson, Grisha Gotovets, and Isaac Moberg. Szmul would then add his two goals in the 3rd period to secure the win. Other scorers for the Magicians included two goals from Robert Christi and TJ Sagissor. Grant Boldt made 27 saves in the win. While Jaxon Friedman stopped 23 of 27 shots in the loss and Dysen Skinner stopped 21 of 23 shots in the loss.
Bismarck 5 @ Minot 4 (SO) – The Bobcats jumped out to an early lead and then got a late goal in regulation to send the game to overtime and a shootout, where they ultimately won 5-4 to complete a weekend home-and-home sweep of the Minotauros. The Bobcats got two goals early in the 1st period from Willy Stauber and Hunter Olson. Lars Rodne scored the next two goals for Bismarck, including the game-tying goal with just a minute left in regulation. Minot got goals from Sam Skinner, Jack Westlund, Wilhelm Wassberg, and Joseph Harguindeguy. In the shootout, Danny Magnuson had the lone goal for the Bobcats. Andrew Miller made 34 saves in the win, while Ben Garrity made 36 saves in the loss.
Austin 7 @ MN Wilderness 3 – The Bruins got four points from Dante Sheriff and three points from Carson Riddle in a 7-3 win on Saturday, which earned them a weekend split with the Wilderness. It was all Bruins from the start as they jumped out to a 6-0 lead, which included two goals apiece from both Sheriff and Riddle and others from Barrett Brooks and Peter Jacobs. Nathan Solis would add a 3rd period goal for the Bruins. The Wilderness got goals from Bram Scheerer, Garrett Worth, and Nathan Adrian. Tyler Shea made 30 saves in the win, while Kaleb Johnson made 13 saves in the loss.