December 20, 2019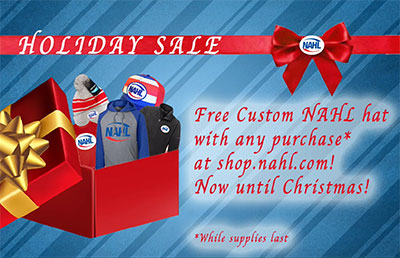 The NAHL continues its pre-holiday action this weekend with a fairly full slate of 19 games on Friday and Saturday.
This weekend offers more exciting divisional action as 2019 enters its final stages. There is just one month left until the NAHL standings freeze to determine the number of spots each team will receive in the 2020 NAHL Top Prospects Tournament.
NHL and NCAA scouts will be on the lookout over the holidays as well. The NHL Central Scouting Mid-Term rankings come out in the middle of January. Three more current NAHL players made NCAA commitments this past week, bringing the season total to 146 NCAA Division 1 commitments to date.
In the Central Division this weekend, the schedule is light with only one series as Aberdeen looks to widen their lead in the division with two games in St. Cloud against the Blizzard. The rest of the division is off, so this gives the 1st place Wings a great opportunity to continue their streak of 10-0-1 in their last 11 games.
In the East, it's a full slate of action, which includes the 1st place New Jersey Titans on the road against the Jamestown Rebels, who have climbed out of the East cellar and who are five points out of the playoff spot. The hottest team in the division, the Maryland Black Bears, put their three-game winning streak on the line with a home series against the WBS Knights. The final series an important one for playoff position as Maine hosts the Northeast Generals, with both teams on the outside looking in the playoff picture. Johnstown is idle.
In the Midwest Division, the race for the top spot continues between the two Alaskan teams, who are separated by just a single point. The Brown Bears are in Janesville to take on the Jets, who are still in the 4th and final playoff spot despite being just 2-8 in their last 10 games. The Ice Dogs are in Chippewa on Friday night and then will be in Minnesota on Saturday to face the Magicians. The Magicians conclude their two-game set with Springfield on Friday, after picking up a 4-1 win on Thursday to pass the Jr. Blues for 5th place in the standings.
In the South Division, playoff positioning is on the line in Shreveport as the 4th place Mudbugs host the 5th place Corpus Christi IceRays for two games with the two teams separated by five points. The hottest team in the South, the Topeka Pilots, who own a six-game winning streak, will face a tough rough series against the 1st place Lone Star Brahmas. The Amarillo Bulls, who have won five straight, are on the road in New Mexico as the Ice Wolves are looking to snap a five-game losing skid. Odessa is idle.
FRI, DECEMBER 20
Northeast at Maine - 2:30 PM EST
New Jersey at Jamestown - 7:05 PM EST
Wilkes-Barre/Scranton at Maryland - 7:45 PM EST
Kenai River at Janesville - 7:05 PM CST
Fairbanks at Chippewa - 7:10 PM CST
Aberdeen at St. Cloud - 7:10 PM CST
Corpus Christi at Shreveport - 7:11 PM CST
Springfield at MN Magicians - 7:15 PM CST
Topeka at Lone Star - 7:30 PM CST
Amarillo at New Mexico - 7:30 PM MST
SAT, DECEMBER 21
Northeast at Maine - 7:00 PM EST
New Jersey at Jamestown - 7:05 PM EST
Wilkes-Barre/Scranton at Maryland - 7:45 PM EST
Kenai River at Janesville - 7:05 PM CST
Fairbanks at MN Magicians - 7:05 PM CST
Aberdeen at St. Cloud - 7:10 PM CST
Corpus Christi at Shreveport - 7:11 PM CST
Topeka at Lone Star - 7:30 PM CST
Amarillo at New Mexico - 7:00 PM MST