Titans edge Knights on Wednesday to widen East lead
December 12, 2019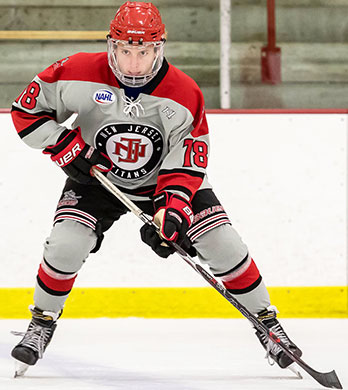 New Jersey 3 @ WBS Knights 2 - The visiting New Jersey Titans widened their lead atop the East Division as they defeated the Wilkes-Barre/Scranton Knights 3-2 on Wednesday. The win extended the Titans division lead to five points over the idle Johnstown Tomahawks.
After a scoreless first period, the Titans got on the board at 5:04 of the middle stanza on Cam Gendron's fifth goal of the year. After being setup by Nick DeSantis and Kyler Head, Gendron beat Knights goalie Zach Stejskal with a wrister to give the Titans a 1 – 0 lead.
After a scoreless 2nd period, the Knights tied the game at 1-1 as Jordan Strand beat Titans goalie Patrick Pugliese on the power play to knot the game.
At the 7:24 mark of the third, Matthew Iasenza scored his fifth goal of the season to give the lead back to the Titans. After a save by Pugliese, Cade Penney picked up the loose puck and head manned it up to Ole Andersen. As Andersen gained the line, he passed it up to Iasenza along the near side boards. As Iasenza skated to the bottom of the faceoff circle, he took a sharp angle shot that trickled through the five hole of Stejskaland into the net to make it a 2 – 1 game.
Stejskal was then pulled in favor of Alex Contey.
With 4:21 remaining in the third, Matt Cameron would double the Titans lead. Again, Penney would set up the play and pass it up to Gavin Gulash along the far side boards. As Gulash reached the end of the faceoff circle, he sent a backhanded pass out front and Cameron redirected it past Contey to make it 3 – 1 Titans.
As time was running out, the Knights Christopher Rubenach beat Pugliese short side to close out the scoring.
Pugliese turned aside 29 of 31 shots while Stejskal and Contey combined to stop 41 of 44 shots.