December 4, 2019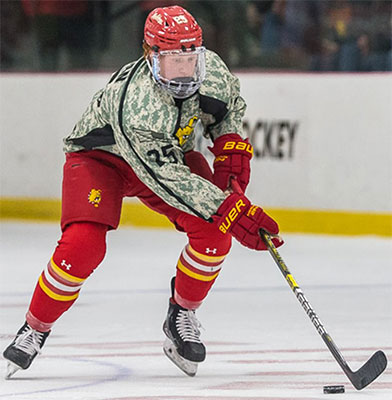 NCAA #3 Star, WCHA Goaltender of the Month and Week: Dryden McKay, Minnesota State (Corpus Christi/Springfield)
Minnesota State sophomore Dryden McKay backstopped Minnesota State to 7-1-1 mark for month of November. The Downers Grove, Ill., native led all NCAA goaltenders with a goals against average of 0.99 and a .962 save percentage for month of November. McKay was named WCHA Goaltender three times in November, picking up two shutouts in eight games – 31 saves in 3-0 win at Michigan Tech Nov. 8 and 20 saves in 3-0 home win over Alaska Anchorage Nov. 23. He registered a career-high 37 saves in a 3-1 non-conference road win at two-time defending national champion Minnesota Duluth Nov. 30 to close out the month. This is McKay's fourth career WCHA Goaltender of the Month award and second this season.
WCHA Rookie of the Month: Jake Willets, Ferris State (Amarillo Bulls)
Ferris State freshman defenseman Jake Willets had a big month in November as he compiled a league rookie-best 10 points with a goal and nine assists. His nine helpers tied for the WCHA lead for the month and he totaled eight blocks overall along with nine total shots on goal in November for the Bulldogs. He scored his first collegiate goal on Nov. 16 against Bemidji State.
ECAC Rookie of the Month: Sam Malinski, Cornell (Bismarck Bobcats)
Malinski quickly established himself as one of the top defenseman in ECAC Hockey, recording nine points (2G, 7A) during the month of November. He not only provided offensive input, he was also outstanding defensively, as he's yet to be on the ice for an even-strength goal against to this point in the season.
Atlantic Hockey Defensive Player of the Week: Brennan Kapcheck, AIC (Aston Rebels)
Brennan Kapcheck had a week to remember for AIC. He had a point in all three Yellow Jacket games this week, extending his point streak to four games, and added six blocks, all coming in the sweep of RIT. All four of his points last week came on assists, the first coming on a power-play goal in Tuesday's loss to Army, Army's first power play goal surrendered since opening night. Kapcheck then added a total of three assists in the two-game sweep of RIT, bringing his career point total to 58. That set a new AIC record for points by a defenseman.
Atlantic Hockey Rookie of the Week: Khristian Acosta, Mercyhurst (WBS Knights)
It took Khristian Acosta 10 games to score his first collegiate goal, but he wasted little time netting his second and third career goals for Mercyhurst. The Lakers played one game this week, the home portion of their home-and-home with Robert Morris being rescheduled due to a facility issue. But in that game, Acosta accounted for both Mercyhurst goals in what resulted in a 2-2 tie. Acosta got things started with a shorthanded goal midway through the second period, putting Mercyhurst up 1-0. Then, late in the third period, with the Lakers trailing 2-1, Acosta linked up with Josh McDougall and Owen Norton to score the game-tying goal. He also had a block in the contest and finished plus-1.
B1G Third Star: Tommy Nappier, Ohio State (Springfield Jr. Blues)
Nappier recorded a shutout against No. 20 Michigan State to help the Buckeyes pick up the sweep. He stopped 23 shots to record his first shutout of the season. Nappier is first in the Big Ten for goals-against average (1.97) and second for save percentage (.936). This is his seventh career weekly award and third this season.
WCHA Rookie of the Week: Nathan Smith, Minnesota State (Aberdeen Wings)
Forward Nathan Smith totaled three points on a goal and two assists as No. 1/1 Minnesota State claimed a two-game non-conference road sweep at No. 8/9 Minnesota Duluth. The Hudson, Fla., native contributed a power play marker in Friday's 4-1 win over the Bulldogs and then had two assists in Saturday's 3-1 win over the two-time defending national champions. Smith assisted on Lucas Sowder's game-winner on Saturday. Smith is tied for eighth in the nation in freshmen scoring with 13 points on four goals and nine assists in 12 games played. This is his second Rookie of the Week honor this season.
SPHL Player of the Week: Max Milosek, Huntsville (Port Huron)
The Southern Professional Hockey League (SPHL) named Max Milosek of the Huntsville Havoc the Warrior Player of the Week for November 25 - December 1. Over the weekend, Milosek helped secure two victories for the Havoc by recording a pair of shutouts. The goalie has won four out of the five past games he's appeared in net.