November 29, 2019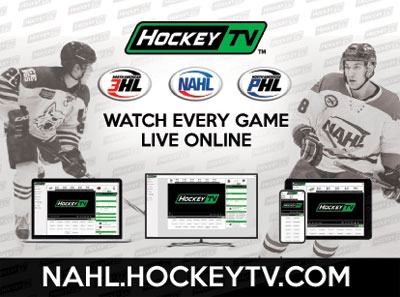 22 games highlight the post-Thanksgiving schedule in the NAHL this weekend as teams get back into action as the halfway point of regular season is rapidly approaching in December.
This weekend offers a few more opportunities for players to add to their November statistics as the divisional rivalries once again take center stage.
Five more current NAHL players made NCAA Division 1 commitments this past week, bringing the season total to 134 NCAA Division 1 commitments to date.
In the Central Division this week, the gap has closed towards the division leading Bismarck Bobcats, who have dropped two straight games and face a tough task this week as they head into Aberdeen to face the Wings, who are on a four-game winning streak. The other red hot team in the division is the Minot Minotauros, who put their five-game winning streak on the line as they host the St. Cloud Blizzard. Austin and the Minnesota Wilderness square off in one game this weekend in Austin.
In the East Division, the 1st place New Jersey Titans put their 13-0-1 streak on the line as they travel to Maryland for two games against the Black Bears, who are just one point out of the fourth and final playoff spot. The 2nd place Johnstown Tomahawks put their three-game winning streak on the line against the Rebels in Jamestown. The final game of the weekend features one game between the Northeast Generals traveling to face the Maine Nordiques on Saturday. The WBS Knights are idle.
In the Midwest Division, the 1st place and red-hot Kenai River Brown Bears put their 10-game winning streak on the line as they host the last place Minnesota Magicians for two games. The Magicians have lost nine straight games. 2nd and 3rd place face-off in Fairbanks this weekend as the Ice Dogs host the Janesville Jets for two more games. On Thursday, Fairbanks came away with a 9-2 win over the Jets. The final series of the weekend is a battle for playoff position as the Chippewa Steel host the Springfield Jr. Blues for a pair of games with the Jr. Blues three points back of the Steel for the fourth and final playoff spot.
In the South Division, all eyes are on North Richland Hills, Texas as the 1st place Lone Star Brahmas put their six-game winning streak on the line against the 2nd place Amarillo Bulls. The Topeka Pilots will be on the road to face the Odessa Jackalopes in a two-game series with the Jackalopes looking to end a four-game losing streak. Two teams needing points to get back into playoff position, the Corpus Christi IceRays and New Mexico Ice Wolves will lock horns in Corpus Christi this weekend. Corpus Christi has lost two straight games, while New Mexico has lost their last four in a row. Shreveport is idle.
FRI, NOVEMBER 29
New Jersey at Maryland - 7:00 PM EST
Johnstown at Jamestown - 7:05 PM EST
MN Wilderness at Austin - 7:05 PM CST
New Mexico at Corpus Christi - 7:05 PM CST
Springfield at Chippewa - 7:10 PM CST
Bismarck at Aberdeen - 7:15 PM CST
Topeka at Odessa - 7:15 PM CST
Amarillo at Lone Star - 7:30 PM CST
St. Cloud at Minot - 7:35 PM CST
Janesville at Fairbanks - 7:30 PM AKST
MN Magicians at Kenai River - 7:30 PM AKST
SAT, NOVEMBER 30
New Jersey at Maryland - 7:00 PM EST
Johnstown at Jamestown - 7:05 PM EST
Northeast at Maine - 7:30 PM EST
New Mexico at Corpus Christi - 7:05 PM CST
Springfield at Chippewa - 7:10 PM CST
Bismarck at Aberdeen - 7:15 PM CST
Topeka at Odessa - 7:15 PM CST
Amarillo at Lone Star - 7:30 PM CST
St. Cloud at Minot - 7:35 PM CST
Janesville at Fairbanks - 7:30 PM AKST
MN Magicians at Kenai River - 7:30 PM AKST