Friday Finals: Wings soar into 2nd place with another win
November 23, 2019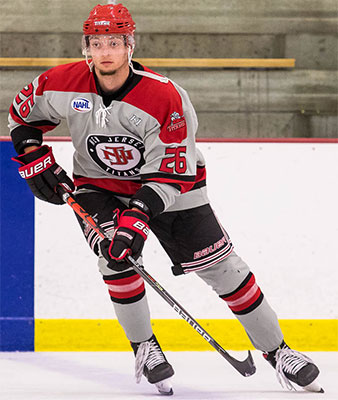 Chippewa 3 @ Aberdeen 6 - A four goal first period lifted the Aberdeen Wings to a 6-3 win over the Chippewa Steel. Nico DeVita, Jordan Randall, Cade Neilson and Cooper Haar all scored goals in the first 20 minutes of action to give the Wings a 4-0 cushion after one. Connor Beatty scored in the second period and while the Steel got the scored within two, it was Riley Murphy's empty netter that sealed the win for Aberdeen. Connor Szmul, Jacob Dirks and John Druskinis scored in the loss. Henry Welsch scored the win in goal with 26 saves while Trent Burnham stopped 31 shots in a losing effort.
Maine 5 @ New Jersey 7 - Mitch Machlitt notched a hat trick and added two assists as the New Jersey Titans outlasted the Maine Nordiques 7-5. Michael Outzen contributed a goal and three assists for the Titans. Kyler Head, Gavin Gulash and Mac Wiseman all scored in the win as well. Arseni Sergeev got the win in goal as he made 25 stops. Noah Kane led the Nordiques with a goal and four assists while Cannon Green chipped in two goals and an assist. Isaiah Fox and Timmy Kent each had a goal and an assist for the Nordiques. Marco Duronio took the loss in net as he made 33 saves.
MN Magicians 0 @ Austin 4 - Brett Miller denied all 26 Minnesota shots as the Austin Bruins took down the Magicians 4-0 on home ice. It was Miller's fifth win of the season and his first shutout. Ben Almquist, Hugh Larkin and Kevin Gabor each netted a goal and an assist. Nathan Solis chipped in a goal as well. Samuel Vyletelka was stuck with the loss as he made 23 saves.
Bismarck 7 @ St. Cloud 2 - The Bismarck Bobcats offense showed up early and often as they routed the St. Cloud Blizzard again, this time by a score of 7-2. Seven different Bobcats found the back of the net but it was Tim Piechowski who led all skaters with three points. Austin Schwartz and Hunter Olson each had a goal and an assist. Dawson Klein, Jacob Marti, Grant Johnson and Trea Irey all lit the lamp for Bismarck. Andrew Miller stopped 16 of 18 shots from St. Cloud. Luke Aquaro was the only member of the Blizzard to find success as he netted both of St. Cloud's tallies. Britt League and Sam Metcalf combined to stop 24 shots.
Jamestown 0 @ Wilkes-Barre/Scranton 4 - Zach Stejskal stopped all 27 shots fired in his direction and the Wilkes-Barre/Scranton Knights shutout the Jamestown Rebels 4-0. Lincoln Hatten had a goal and an assist while Aaron Hamel, Artur Truansky and Caydon Meyer all found the back of the net in the win. Jon Howe stopped 21 shots for the Rebels in the loss.
Odessa 5 @ Amarillo 6 - The offense was firing on all cylinders as six different Bulls scored in Amarillo's 6-5 win over Odessa. Oliver Bezick, Niclas Puikkonen and Matt Allen all chipped in a goal and an assist. Jordan Venegoni, Joshua Burke and Nick Stapleton all found the back of the net as well. Adam Kolcon led all skaters with three assists. Charlie Glockner and Max Gutjahr combined for 18 saves. Isaiah Heumpfner netted a goal and an assist while Connor Scahill, Matt Clark, Nick Grimaldi and Jan Blasko all scored for the Jackalopes. Aaron Randazzo took the loss with 48 saves.
Shreveport 3 @ Corpus Christi 1 - The Shreveport Mudbugs defeated the Corpus Christi IceRays 3-1 on Friday night as Maiszon Balboa. Jacob Smith, Giovanni Procopio and Sam Miller all lit the lamp for the Mudbugs while Billy Feczko added two assists. Erik Bargholtz netted the only goal for Corpus Christi. Cal Sandquist made 29 saves in the loss.
Maryland 4 @ Johnstown 5 (OT) - Malik Alishlalov blasted a power play goal in overtime to propel the Tomahawks to a 5-4 win over the Maryland Black Bears. Christian Gorscak netted a goal and three assists while Max Kouznetsov potted a pair of goals of his own. Brendan Blair scored a goal in the win while Tristan Poissant chipped in three assists. David Tomeo stopped 22 saves for the Tomahawks. Aden Bruich scored a pair of goals and an assist to lead the Black Bears. Jackson Sterrett and Reid Leibold also tickled the twine for Maryland. Andrew Takacs turned aside 21 shots in the loss.
Janesville 6 @ Springfield 1 - A huge second period was all the Janesville Jets needed as they won their sixth straight game with a 6-1 win over Springfield. Henry Sweeney potted a pair of goals for Janesville. Nick Michel, Jackson Sabo, Isaac Novak and Athony Szurlej all found the back of the net for Janesville. Grant Riley allowed just one goal on 24 shots to pick up the win in goal. Caden Villegas provided the only offense for Springfield. Ryan Wilson and Alex Proctor teamed up to make 26 saves.
Lone Star 4 @ New Mexico 1 - For the second straight night, the Lone Star Brahmas scored a win over the New Mexico Ice Wolves, this time by a score of 4-1. Joey Baez and Matt Guerra each had a goal and an assist while Thomas Daskas and Evan Googins also found the back of the net. Ludvig Persson grabbed the win in goal as he made 30 saves to pick up his second win in as many nights. Alex Gomez scored the only goal for New Mexico while Henrik Laursen was given the loss as he made 27 saves.
Fairbanks 4 @ Kenai River 6 - Make it nine straight wins for the Kenai River Brown Bears as they once again took down the Fairbanks Ice Dogs, this time by a score of 6-4. Laudon Poellinger and Brandon Lajoie each scored a pair of goals and added an assist. Trey LarBarge and Porter Schachle also chipped in goals for the Brown Bears. Landon Pavlisin stopped 26 shots to earn his league leading 14th win of the season. Austin Ryman and Mattias Sholl combined to make 29 saves for the Ice Dogs while Matt Koethe, Parker Brown, Trenton Woods and Oliver Kjaer all lit the lamp for Fairbanks in the loss.