Minotauros striving to make a difference
July 13, 2011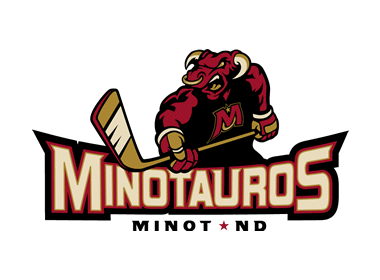 As the flood in Minot, North Dakota continues to change history, the importance of family and community has again proven to be paramount in times of uncertainty. The people of Minot and the Tauros embrace a common goal, "Resilience".
No Minot resident has been spared the effects of the devastation, the new Tauros family included. The majority of the first-year NAHL organization is made up of Minot residents, all of whom have experienced this disaster first hand, either personally or through their immediate families.
The effects of devastation and hardship bare many mixed emotions, but most importantly it creates a sense of hope and a need to look to the future. The Tauros will strive to be part of this new phase in Minot's history continuing to help where ever possible. A large part of their off-ice programs that include volunteer work with schools and youth initiatives may have to be redirected this year towards rebuilding projects. The Minotauros will do what ever it takes to make a difference in this re-growth.
Minot's' newest franchise, the Minotauros, released their 60-game regular season schedule on June 16th. The Tauros continue to move forward with their preparations for their first season of North American Hockey League play and the first puck drop at the beginning of September when they look to track down a National Championship.
The Tauros are set to open their first ever home game in the Maysa Arena with back-to-back action against the Alexandria Blizzard on Friday, the 30th of September and the Bismarck Bobcats on Saturday, the 1st of October.
"We understand that hockey is the last thing on people's minds at this time, but we have to continue moving forward with our efforts to build this franchise. That being said we still want the community to know that we are here to help where ever possible. For starters some of our players will be arriving to Minot early to assist in further cleanup efforts." said Nick Hulberg, Director of Corporate Sales and Marketing. He added, "Our main camp is scheduled for August 7, 8 and 9th right here in Minot, with several local players showcasing their talents. We have also begun organizing a charity event in conjunction with the tryouts that will benefit the community." Hulberg reiterated "Our goal is to make a difference in this community and produce a little magic along the way." He added "Hopefully, that will begin soon when the newest member of our organization is introduced. He's truly, a real character!"