Generals edge Black Bears in OT on Sunday
November 10, 2019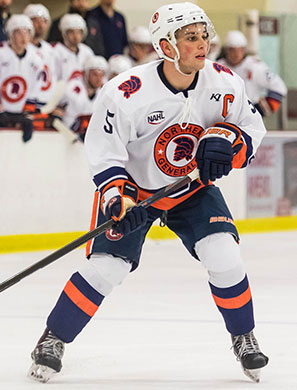 Maryland 2 @ Northeast 3 (OT) - Joe Nagle's first of the season was the game-winner in overtime as the Northeast Generals defeated the Maryland Black Bears, 3-2 in the lone NAHL game on Sunday. The Generals won two of the three games played over the weekend.
The Generals outshot the Black Bears 18-14 in the first period. As a result, the Generals got on the board first with a goal from Cam Gaudette with assists from Ethan Destefani and Joe Nagle. The Black Bears had multiple opportunities for an equalizer, yet were unable to convert.
After a scoreless 2nd period, Black Bears defenseman Anthony Mollica finally put his team on the board to start the third period with help from Cameron Recchi and Hampus Rydqvist, which tied the game up at 1-1. Toward the end of the period, Mollica proved to be the offensive catalyst again by finding the back of the net on assists from Filip Jakobsson and Thomas Jarman. The Generals continued to hang around and forced overtime after a goal from Liam McCanney with less than a minute left.
Overtime came to an abrupt end after Joe Nagle of the Generals lit the lamp to give the Generals the victory and series win.
Generals goalie Joey Stanizzi stood on his head as he made 46 saves to earn the win for the Generals. Cooper Black took the loss in net as he made 32 saves.