November 8, 2019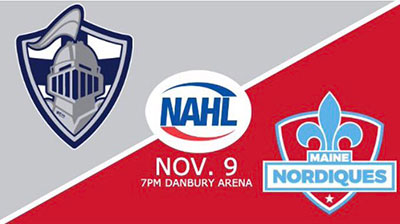 It is a big weekend in the NAHL as the games continue in November and the schedule is closing in on 20 games played for teams.
This weekend features 22 games from Friday though Sunday as teams continue to jockey for positioning in the standings.
This weekend features a special regular season game in the East Division between the Maine Nordiques and the Wilkes-Barre/Scranton Knights, which will be played during the NAPHL East Showcase at the Danbury Arena in Danbury, Connecticut on Saturday, November 9th at 7pm.
It was another great week for the NAHL in terms of NCAA commitments as more current players and a few alumni made NCAA Division 1 commitments this past week, bringing the 2019-20 season total to 118.
In the Central Division, the lone two-game series features the Aberdeen Wings hosting the Minot Minotauros with the two teams tied for 3rd place in the standings. After that, it is single games on Saturday as the Bismarck Bobcats try and move back into 1st place with a game against the St. Cloud Blizzard and the Austin Bruins hosting the Minnesota Wilderness on Saturday.
In the East Division, all eyes will be on Danbury, Connecticut on Saturday night as the Maine Nordiques face the WBS Knights in a neutral site regular season game at Danbury Arena. The two teams play on Friday afternoon as well in Wilkes-Barre/Scranton. The Northeast Generals host the Maryland Black Bears for three games as both teams look to get back into playoff position. The final series features the last two games of the three-game set as the Jamestown Rebels head to Johnstown to face the Tomahawks. Johnstown took Game 1 of the series on Thursday by a 2-1 score.
In the Midwest, the two Alaska clubs return back home as the Fairbanks Ice Dogs look to widen their lead in the Midwest Division with two more games against the Springfield Jr. Blues. Fairbanks shutout Springfield on Thursday, 3-0. The Kenai River Brown Bears will host the Chippewa Steel with the two teams separated by just a single point in the standings. The final series has the Minnesota Magicians at the Janesville Jets for two games with both clubs looking to climb back into the playoff picture.
In the South Division, Amarillo and Corpus Christi finish their series on Friday as Amarillo took the first game on Thursday night, 2-1 in a shootout. The 1st place Topeka Pilots are in New Mexico to take on the Ice Wolves and a rivalry is renewed in Lone Star as the Brahmas face the Shreveport Mudbugs in a rematch of their playoff series last year.
FRI, NOVEMBER 8
Maine at Wilkes-Barre/Scranton - 3:00 PM EST
Maryland at Northeast - 7:00 PM EST
Jamestown at Johnstown - 7:30 PM EST
Amarillo at Corpus Christi - 7:05 PM CST
MN Magicians at Janesville - 7:05 PM CST
Minot at Aberdeen - 7:15 PM CST
Shreveport at Lone Star - 7:30 PM CST
Topeka at New Mexico - 7:30 PM MST
Springfield at Fairbanks - 7:30 PM AKST
Chippewa at Kenai River - 7:30 PM AKST
SAT, NOVEMBER 9
Jamestown at Johnstown - 7:00 PM EST
Maryland at Northeast - 7:00 PM EST
Maine at Wilkes-Barre/Scranton - 7:00 PM EST
MN Wilderness at Austin - 7:05 PM CST
MN Magicians at Janesville - 7:05 PM CST
Minot at Aberdeen - 7:15 PM CST
St. Cloud at Bismarck - 7:15 PM CST
Shreveport at Lone Star - 7:30 PM CST
Topeka at New Mexico - 7:00 PM MST
Springfield at Fairbanks - 7:30 PM AKST
Chippewa at Kenai River - 7:30 PM AKST
SUN, NOVEMBER 10
Maryland at Northeast - 2:00 PM EST