Ice Dogs, Tomahawks, and Bulls win on Thursday night
November 8, 2019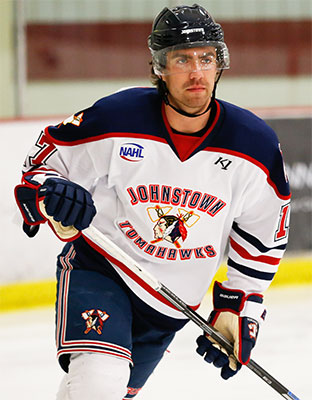 Springfield 0 @ Fairbanks 3 – Ice Dogs and former Team NAHL goaltender Mattias Sholl stopped all 25 shots that came his way for his first shutout of the season as the Ice Dogs widened their lead in the Midwest Division thanks to a 3-0 home win over the Jr. Blues on Thursday night. The Ice Dogs got the scoring going late in the 1st period thanks to a power play goal from Jack Johnston. Early in the 2nd period, Oliver Kjaer scored a power play goal to make it 2-0 and then in the 3rd period, Kjaer would add his second goal of the game with an empty-net marker. Jr. Blues goalie Ryan Wilson made 19 saves in the loss.
Jamestown 1 @ Johnstown 2 - The Johnstown Tomahawks faced off againstthe Jamestown Rebels for the first of three home games this week. Forward Noah Basarab returned from injury and made his presence felt, scoring Johnstown's two goals, both coming on the Tomahawks power play. The Tomahawks got on the board in the 1st period on a power play goal from Basarab, assisted by Quinn Warmuth and Carson Gallagher. Midway through the 2nd period, Basarab scored again on the power play with assists to Adam Kolcon and Bennett Stockdale. The Rebels got their lone goal in early in the 3rd period from Valerii Kykov with assists to Noah Finstrom and Jordan Cormier, but the Rebels could not find the equalizer. Tomahawks goalie David Tomeo made 15 saves in the win and is now 4-0-1 in his last 5 games, with his lone loss coming in overtime. Rebels goalie Noah West made 26 saves in the loss.
Amarillo 2 @ Corpus Christi 1 (SO) - Thank you Black's scored the lone goal in the shootout and Charlie Glockner's three stops secured a comeback victory for the Amarillo Bulls, as the team topped the Corpus Christi IceRays 2-1 in the shootout on Thursday night. The IceRays took a 1-0 lead in the 1st period as Shane Bull lifted a shot from the slot past Bulls goalie Charlie Glockner. The Bulls tied the game at 1-1 in the 2nd period when Jordan Venegoni turned a one-timer from Matt Allen through the pads of IceRays goalie Cal Sandquist. Both goalies, Glockner and Sandquist, played well in the loss, with each making 20 saves in the game.