November 6, 2019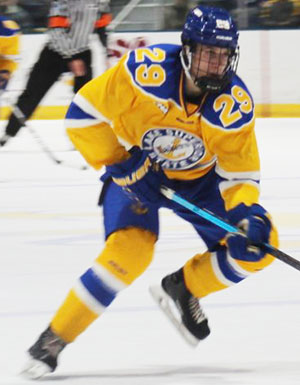 Atlantic Hockey Player of the Month: Dalton Hunter, Mercyhurst (Johnstown Tomahawks)
Dalton Hunter led Atlantic Hockey in scoring for the first month of the season, registering nine points in six October games. He had at least one point in all six games and multiple points in three of them, including wins over Arizona State and St. Lawrence. Hunter was a vital part of the success Mercyhurst had on the power play, scoring twice and adding two assists while the Lakers had the man advantage. He also assisted on the game-winning goal in Mercyhurst's 3-2 overtime win over St. Lawrence on October 10th. Hunter had been involved in 9 of the 15 Mercyhurst goals scored in October.
WCHA Goaltender of the Month: Dryden McKay, Minnesota State (Corpus Christi, Springfield)
Minnesota State sophomore Dryden McKay helped lead Minnesota State to 5-0-1 mark for month of October. He finished the month as the WCHA leader in wins, save percentage (.940), goals against average (1.36), winning percentage (.900) and shutouts (one). McKay's GAA ranked No. 4 nationally in the season's opening month. The Downers Grove, Ill., native was named WCHA Goaltender of the Week following MSU's season-opening two-game sweep of Arizona State on Oct. 11-12. McKay turned aside 25-of-26 shots in 4-1 win in the opening game of the series before earning his fifth career shutout by stopping all 14 shots in 5-0 victory over the Sun Devils on Oct. 12. This is McKay's third career WCHA Goaltender of the Month award.
Atlantic Hockey Goalie of the Week: Matt Ladd, Canisius (New Jersey, Aberdeen, Magicians)
Ladd backstopped Canisius to their first win of the 2019-20 season. He recorded his second career shutout by stopping all 23 shots faced in a 4-0 victory over Union at the LECOM Harborcenter. Ladd made a game-high 13 saves in the first period and turned aside all 10 shots he faced over the final two frames to help lead the Golden Griffins to victory.
B1G Second Star: Tommy Nappier, Ohio State (Springfield Jr. Blues)
Nappier backstopped the Buckeyes to a sweep of Michigan with a .938 save percentage and 1.50 goals-against average. He did not allow a goal in the final 30:11 on Friday, as the Buckeyes came back from a 2-0 deficit. He then made 13 saves in the first period to keep Saturday's game scoreless, four in the second and nine in the third, including a last-second save that would have tied the game. This is his sixth career weekly award and his first since Feb. 5, 2019 (Third Star).
ECAC Rookie of the Week: Sam Malinkski, Cornell (Bismarck Bobcats)
Malinski played a key role in Cornell's weekend sweep of Michigan State, finishing the series with four points (1G, 3A). He dished out an assist on the game-winning goal on Friday, before scoring and adding two more assists in Saturday's 6-2 win. He became the first Cornell defenseman to post four points over his first two collegiate games since Brendon Nash in 2006.
ECAC Goaltender of the Week: Gavin Nieto, Brown (Fairbanks, Janesville)
Nieto faced over 60 shots in the home-and-home series against Yale this weekend, allowing just four goals in the process. He finished the weekend with a league-high 57 saves, .934 save percentage, and 2.03 GAA.
NCHC Goalie of the Week: Michael Corson, Denver (Springfield Jr. Blues)
Corson had a night to remember in his only appearance of the weekend last Saturday against Niagara. Making his first career start and only second career appearance, Corson recorded his first career shutout, stopping all 16 shots the Purple Eagles sent his way. He was named First Star of the Game in Saturday's 4-0 win, helping kill all five Niagara power plays, including making four saves short-handed. The win in net was the first of his career, as well, while he still has a perfect 1.000 save percentage for his career as he is yet to allow a goal in his two career appearances now, totaling 26 saves in the two games.
WCHA Forward of the Week: Ashton Calder, Lake Superior State (Minnesota Wilderness)
Lake Superior State's Ashton Calder helped lead the Lakers to a pair of wins over Ferris State this weekend with five points in the series on two goals and three assists. Calder led LSSU in points during the team's two-game home-series sweep against Ferris State with a pair of goals in Friday's 5-4 overtime win and three assists in Saturday's 4-3 win. Calder recorded two goals in the third period of the series opener, including a power-play goal. In Saturday's game, the Sault Ste. Marie, Mich. native tallied two power-play assists as well as the secondary assist on the game-winning goal. Calder led all WCHA players in points this week and was tied for first among league players with three power-play points. The sophomore forward is tied for the team-lead on the Lakers with 11 points in 10 games and has notched points in seven of the ten games this season. This is Calder's third career weekly honor.
WCHA Goaltender of the Week: Anton Martinsson, Alaska-Fairbanks (Amarillo Bulls)
Alaska senior Anton Martinsson stopped 37-of-38 shots in the Nanooks' 3-1 home win over Bemidji State on Saturday. The Klippan, Sweden native finished the night with a .973 save percentage in the victory to lead league netminders in save percentage and goals against average (1.00) on the weekend. Martinsson turned away 18 shots in the first period, 11 in the second and eight in the third to lead the 'Nooks to the win. This is Martinsson's fourth career WCHA weekly honor.
WCHA Rookie of the Week: Louis Boudon, Lake Superior State (Northeast Generals)
Lake Superior State forward Louis Boudon helped lead the Lakers to a pair of wins over Ferris State this weekend with a total of four points in the series. Boudon recorded an assist in Friday's 5-4 overtime win against the Bulldogs and followed up with a three-point game on Saturday as LSSU completed the sweep with a 4-3 victory. The performance was the Grenoble, France, native's first career multi-point game. He netted the Lakers second goal of the game while also adding a pair of power-play assists in the win. Boudon tied for second among all WCHA players in points on the weekend with four and is riding a five-game point streak with seven points (3g-4a) in that span. Boudon tied for first place in both points and goals this week among league newcomers. He is tied for second among WCHA freshmen in points this season with eight points through his first ten games. This is his first WCHA weekly honor.