October 30, 2019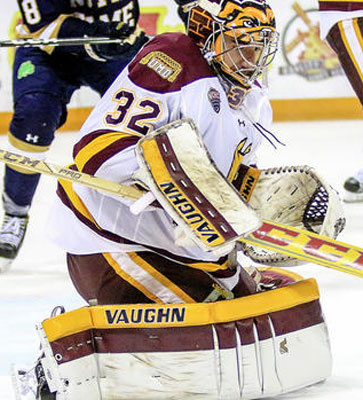 B1G Third Star: Wyatt Ege, Ohio State (Fairbanks Ice Dogs)
Ege tied for the NCAA lead among defensemen with four points on the weekend to help Ohio State to a road sweep of Mercyhurst. He scored three goals in an 8:07 span on Friday, before assisting on Gustaf Westlund's game-winning goal in the second period on Saturday. He also recorded the third hat trick for a Big Ten defenseman in conference history and the first for a Buckeye defenseman in more than 20 years. The two-time Academic All-Big Ten honoree earns his first career weekly award.
ECAC Rookie of the Week: Aleksi Peltonen, St. Lawrence (Corpus Christi IceRays)
Peltonen (Fr. - Helsinki, Finland) was lethal on the power play this weekend, scoring both of his goals during man-up opportunities on Friday evening. He added an assist in the Saints 3-0 win over Bentley on Saturday, wrapping up the weekend with three points.
NCHC Rookie of the Week: Jack Clement, Miami (Shreveport Mudbugs)
Clement had a breakout weekend for Miami, scoring the first two goals of his collegiate career at Colgate last weekend, while playing on the top defensive pair both nights. On Friday, he scored his first career goal, tying the game at 1-1 in the first period, only 21 ticks after the Raiders had taken the lead. He also put three shots on goal and was +2 in the eventual 3-3 overtime tie. A night later, Clement scored another first-period goal, doubling Miami's lead to 2-0 late in the frame, while he helped the RedHawks shut out Colgate in a 2-0 victory. He was +1 with two shots on goal Saturday. Clement ended the series with two goals, a +3 plus/minus, five shots on goal and two blocked shots. Along with helping record a shutout, Clement played on a penalty kill unit that went 7-for-7 at Colgate, including 4-for-4 in Saturday's whitewash. He now has five points on the season (2g, 3a).
NCHC Goalie of the Week: Hunter Shepard, Minnesota Duluth (Bismarck Bobcats)
Shepard returned to his All-American ways last weekend, allowing only two goals and backstopping Minnesota Duluth to a home-and-home sweep of in-state rival Minnesota. On Friday, he made 18 saves and gave up his only two goals of the weekend in a 5-2 victory in Minneapolis, also helping UMD kill both Minnesota power plays. The next night in Duluth, Shepard turned aside all 21 shots he faced for his first shutout of the season and 16th shutout of his career, extending his NCHC record. He helped kill all three Gopher power plays on Saturday, with three short-handed saves, and landed as the Second Star of the Game. Shepard finished the series 2-0-0 with a 1.00 goals-against average and a .951 save percentage, totaling 39 saves on 41 shots faced, while helping kill all five Minnesota power plays in the series, as well. He lowered his season GAA to 2.34 and upped his season save percentage to .899.
WCHA Forward of the Week: Griffin Loughran, Northern Michigan (Corpus Christi IceRays)
Northern Michigan sophomore Griffin Loughran led the Wildcats to a 2-0-0 weekend to open WCHA play behind four goals, including two game-winners. The West Seneca, N.Y., native posted the game-winning goal in Friday night's victory before storming back to net two in the final 1:30 Saturday night to boost the Wildcats to a 6-4 final. Loughran stands alone in first nationally in that category with three this season. He also ranks third nationally in goals per game (1.0) and is sixth in power play tallies with three. In conference play Loughran is first in goals per game (2.0), points per game (2.0) and game winning goals (two). He also ranks fourth in power play goals (one) and total shots on net (nine). On the weekend, he led the Wildcats in points (4g-0a/4pts) and shots with nine. This the third Player of the Week honor of Loughran's career. He earned a pair of Rookie of the Week nods in 2018-19.