Titans roll to eighth straight win on Wednesday
October 30, 2019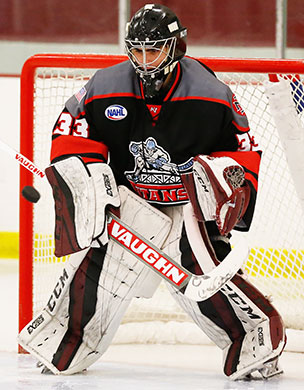 New Jersey 6 @ WBS Knights 3 – In a NAHL afternoon game on Wednesday, the East Division-leading New Jersey Titans jumped out to a 3-0 lead an never looked back as they defeated the Wilkes-Barre/Scranton Knights, 6-3. With the win, the Titans increased their winning streak to eight straight games and their East Division lead to six points.
The Titans scored three times in the opening eight minutes of the game, which included goals from Tyler Nasca, Kyle Jeffers, and Matt Cameron. The Knights put a temporary halt to the goal assault with a goal from Tyrone Bronte later in the period, but the relief would be short-lived.
The Titans took control of the game in the 2nd period with three more goals to make the score 6-1. Matthew Iasenza, Chris Garbe, and Mitch Machlitt all scored for New Jersey in the middle frame.
In the 3rd period, the Knights tried to mount a small comeback with goals from Spencer Kring and Nikita Asylaev, however another goal from Machlitt secured the 7-3 win for the red-hot Titans.
New Jersey goalie Patrick Pugliese made 35 saves for his fourth straight win, while Knights goalie Zach Stejskal took the loss allowing the first five goals on 27 shots before being lifted in favor of Alex Contey, who allowed two goals on 12 shots.