October 23, 2019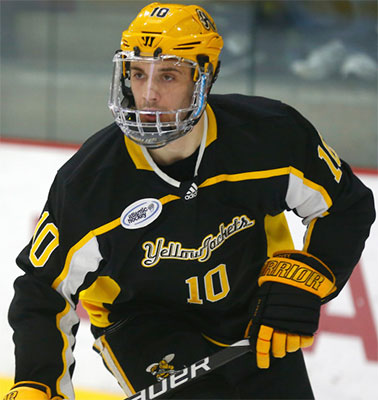 Atlantic Hockey Player of the Week: Martin Mellberg, American International (Lone Star Brahmas)
Mellberg turned in another clutch effort for AIC in a 2-1 win at Sacred Heart on October 18, assisting the team's opening goal and then landing the decisive tally in the second period while also blocking one shot and serving on the penalty kill that went 6-for-6. Mellberg now has points in consecutive games and has the Yellow Jackets at 1-0-0 in conference play.
B1G First Star: Daniel Lebedeff, Wisconsin (Janesville Jets)
Lebedeff backstopped the Badgers to a sweep over two-time defending NCAA champion and No. 3/2 Minnesota Duluth with a .950 save percentage and 1.51 goals-against average. He recorded 26 saves in a 6-2 win against the Bulldogs on Friday and then turned aside a season-high 31 shots in a 3-1 victory over Minnesota Duluth on Saturday. This his first career weekly award.
Hockey East Defensive Player of the Week: Stefanos Lekkas, Vermont (Springfield)
Stefanos Lekkas (Elburn, Ill.) recorded 35 saves in a 2-0 win at St. Lawrence, giving Vermont its first win of the year on Saturday. He made 20 saves in the third period alone to pick up his fourth career shutout. In a 3-2 season-opening loss at #9 Clarkson, the senior stopped 29 shots. Lekkas finished the weekend with a 1.52 goals against average and .955 save percentage after saving 64 of 67 shots.
NCHC Goaltender of the Week: Isaiah Saville, Omaha (Minnesota Magicians)
Saville was rock-solid in net for Omaha, backstopping the Mavericks to a road split at then-No. 12/13 Ohio State. In Friday's opener, he turned aside 24 shots in a 3-2 loss, including 10 saves in the third period. None of the goals he allowed were even strength as OSU tallied all three on the power play. Saturday, the Vegas Golden Knights draft pick made a career-high 37 saves on 38 shots in a 2-1 win, with double-digit stops each period. Saville also helped Omaha go 5-for-5 on the penalty kill Saturday, making 15 saves short-handed, a stretch that totaled 13:03 and included 2:57 of 5-on-3 power play advantage for OSU. He ended the series with a 2.02 goals-against average, while totaling 61 saves on 65 shots for a .938 save percentage, tops on the weekend in the NCHC. Saville also helped Omaha finish 9-for-12 on the penalty kill against OSU. On the season, he leads the NCHC with both a 1.68 GAA and a .938 save percentage in three games (2-1-0).
WCHA Goaltender of the Week: Eric Dop, Bowling Green (Minot Minotauros)
Junior Eric Dop backstopped Bowling Green to a two-game home-and-home sweep of No. 14//15 Western Michigan over the weekend. Dop allowed just one goal per game as the Falcons carved out two tough victories. The Lewis Center, Ohio, native stopped 21 shots in Friday's 2-1 home win and turned away a season-high 37 shots in BGSU's 2-1 overtime victory on Saturday in Kalamazoo. His Saturday save total equals the WCHA season-best this year and tied for fourth nationally for a single game on the weekend. This is Dop's second career Goaltender of the Week honor and his sixth career weekly award. He was honored as the Rookie of the Week four times in 2017-18.
WCHA Rookie of the Week: Nathan Smith, Minnesota State (Aberdeen Wings)
Freshman forward Nathan Smith helped lead the No. 2/3 Mavericks to a 4-4 overtime tie and a 2-1 win over No. 16/RV North Dakota in a weekend series in Mankato. His four points on a goal and three assists tied for the points lead among WCHA freshman on the weekend. Smith won 20-of-29 faceoff attempts (.690) against UND to lead all NCAA freshmen in faceoff winning percentage (min. 13 attempts). In his collegiate debut Friday, the Hudson, Fla., native had a hand in all four Minnesota State goals in Friday's 4-4 overtime tie with the Fighting Hawks. This is Smith's first WCHA weekly honor.
ECHL Goaltender of the Week: Tomas Sholl, Idaho Steelheads (Fresno Monsters)
Tomas Sholl of the Idaho Steelheads is the Warrior Hockey ECHL Goaltender of the Week for Oct. 14-20. It is the second time this season, and fifth time in his career, that Sholl has received the weekly honor. Sholl went 1-0-0 with a 0.94 goals-against average and a save percentage of .960 last week. The 25-year-old turned aside 24 of the 25 shots he faced in a 2-1 win over Wichita on?Friday.
SPHL Player of the Week: Chase Perry, Pensacola Ice Flyers (Wenatchee Wild)
The Southern Professional Hockey League (SPHL) today named rookie goaltender Chase Perry of the Pensacola Ice Flyers the Warrior Player of the Week for October 18-20. The rookie made his SPHL debut this past weekend and helped the Ice Flyers secure two wins (2-0-0) against the Roanoke Rail Yard Dawgs. Over the weekend, Perry recorded two wins, 1.50 GAA and a .909 save percentage. On Friday, the teams battled and regulation time ended in a 2-2 tie. The teams headed into overtime and the Ice Flyers pulled through to defeat the Dawgs 3-2. Perry stopped 16 out of 18 shots on Friday night. On Saturday, Pensacola took on Roanoke for their second game of the season. The Ice Flyers bested the Dawgs 2-1 and recorded another victory. Perry aided their success by stopping 14 out of the 15 shots that came his way.