October 17, 2019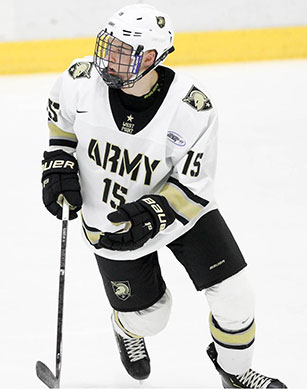 Atlantic Hockey Defensive Player of the Week: Marshal Plunkett, Army (Coulee Region/Fairbanks)
Marshal Plunkett had the primary assist on the game-winning goal in Army's 2-1 road win over UConn Friday night. The sophomore has now assisted on the game-winning goal of both wins to open the season. He also is part of the penalty kill unit that negated all four UConn power-play opportunities and added one block in the win.
Atlantic Hockey Goalie of the Week: Justin Kapelmaster, Robert Morris (Wichita Falls Wildcats)
Kapelmaster continued his unparalleled start to his Robert Morris career, backstopping the Colonials to a sweep of Atlantic Hockey rival Bentley. The transfer from Ferris State stopped 80 of 81 shots faced in the two-game sweep, including a 35-save shutout on Friday. He followed that with a 45-save effort on Saturday to hold off the Falcons' comeback attempt.
B1G #1 Star: Tommy Nappier, Ohio State (Springfield Jr. Blues)
Nappier backstopped the Buckeyes to the IceBreaker title with a .958 save percentage and 1.45 goals-against average in a tie against Western Michigan and a win over RIT. He made a career-high 44 saves in a 2-2 tie with Western Michigan, adding five more saves in the ensuing 3-on-3 overtime and stopping four out of five attempts in the shootout. He also turned aside 24 shots in a 3-1 victory over RIT on Saturday. This is his fifth career weekly award and his first since Feb. 5, 2019 (Third Star).
WCHA Goaltender of the Week: Dryden McKay, Minnesota State (Corpus Christi/Springfield)
Minnesota State's Dryden McKay stopped 39-of-40 shots in the Mavericks' home non-conference sweep of Arizona State. The Downers Grove, Ill., native posted 25 saves on 26 shots in Friday's 4-1 win before earning his fifth career shutout by stopping all 14 shots in Saturday's 5-0 victory over the Sun Devils. His 0.50 goals-against average on the weekend ranked fifth nationally.
ECHL Goaltender of the Week: Tomas Sholl, Idaho Steelheads (Fresno Monsters)
Tomas Sholl of the Idaho Steelheads is the Warrior Hockey ECHL Goaltender of the Week for Oct. 11-13. It is the fourth time in his career that he has received the weekly honor. Sholl went 2-0-0 with a 1.50 goals-against average and a save percentage of .958 in two appearances at Utah last week. The 25-year-old turned aside 30 shots in a 3-2 season-opening win on?Friday and made 39 saves in a 3-1 victory on Saturday.