NAHL announces Bauer Hockey Divisional Stars of the Week
October 7, 2019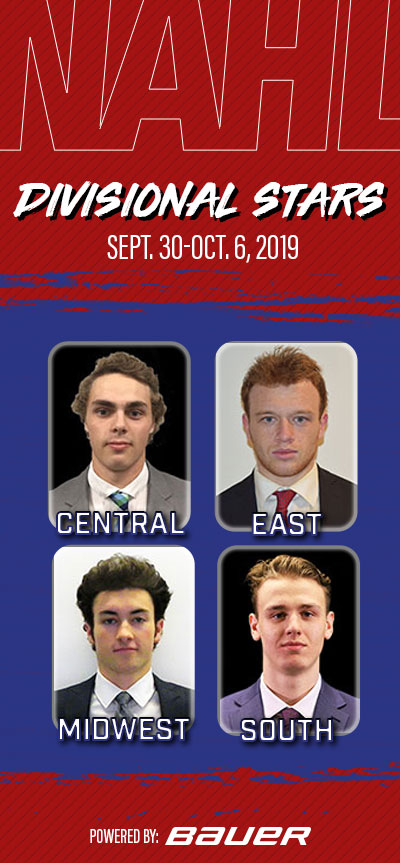 The North American Hockey League (NAHL) today announced the Divisional Stars of the Week presented by Bauer Hockey for the week ending October 6, 2019. The Divisional Stars of the Week is a weekly feature during the 2019-20 regular season that honors the top performing players in each of the four NAHL divisions. Only players that are nominated by their respective teams are considered for the Divisional Players of the Week award.
Watch: NAHL Stars of the Week video for Sept. 30-Oct. 6
Central Division Star of the Week: Nick Portz, forward, Minnesota Wilderness
The Minnesota Wilderness picked up a big weekend home sweep of the Minot Minotauros this past weekend and forward Nick Portz, 19, put up some big numbers. The 5'11/175 lbs. native of St. Cloud, Minnesota, recorded six points in the two wins. That included four points in a 7-6 shootout win on Friday and a two points in a 5-1 win on Saturday. For the season, Portz leads the Wilderness in scoring with seven points in four games played. "I've been very impressed with Nick's professionalism in our community and at the rink. We chose him as part of our leadership group because he embodies the hard work ethic mentality that we believe in. He plays with tremendous tenacity around the puck and his commitment to the fine details of the game is excellent. He has the ability to make players around him better and isn't afraid to sacrifice his body to help the team win. He was able to bring all those aspect of his game last weekend and it showed in our clubs success," said Wilderness head coach Jon Vaillancourt.
2nd Star: Will Hillman, F, Bismarck Bobcats
Honorable Mention (alphabetical): Ben Almquist, F, Austin Bruins – Nate Horn, F, Minnesota Wilderness – Britt League, G, St. Cloud Blizzard – Andrew Miller, G, Bismarck Bobcats – Jack Powell, D, Aberdeen Wings – Connor Tilmon, F, Austin Bruins – Henry Welsch, G, Aberdeen Wings
East Division Star of the Week: Kyle Jeffers, forward, New Jersey Titans
The 1st place New Jersey Titans widened their lead in the East Division this past weekend with a road sweep of the Northeast Generals. Forward and American International College recruit Kyle Jeffers, 20, put on a scoring clinic over the weekend, which included five points in the two wins. On Friday, the 5'10/170 lbs. native of Oviedo, Florida, had two goals, including the game-winner, and two assists in a 7-2 win. On Saturday, the NAPHL grad has another goal in a 4-3 shootout win. Jeffers is currently 2nd on the team in scoring with 15 points in 10 games played. "Kyle was a force for us throughout the weekend. He shifted to a new line for this weekend and him and his line mates really responded well. Kyle moved his feet and played with consistent pace and was rewarded for his work with an impressive offensive weekend. Kyle is a big part of our hockey club and we will need him to continue to contribute in all areas of the ice if our hockey team is going to be successful," said Titans head coach Craig Doremus.
2nd Star: Matt Cameron, F, New Jersey Titans
Honorable Mention (alphabetical): Ricky Boysen, F, Northeast Generals – Matt Cameron, F, New Jersey Titans – Jordan Cormier, F, Jamestown Rebels – Lincoln Hatten, F, Wilkes-Barre/Scranton Knights - Johnny Kaljian, F, Wilkes-Barre/Scranton Knights – Max Kouznetsov, F, Johnstown Tomahawks – Bennett Stockdale, F, Johnstown Tomahawks – Noah West, G, Jamestown Rebels
Midwest Division Star of the Week: Connor Szmul, forward, Chippewa Steel
Chippewa Steel forward Connor Szmul, 20, led his team to a weekend home sweep of the Kenai River Brown Bears and move into sole possession of 1st place in the Midwest Division. The 5'8/155 lbs. native of Castle Rock, Colorado, recorded six points in the two wins. On Friday, Szmul had five assists in an 8-2 win, and then on Saturday, he had a power play goal in a 5-0 win. For the season, Szmul leads the Steel in scoring with 12 points in 8 games played. "We have put a lot of responsibility on Connor early on this season and he has exceeded expectations. From his performance on the ice to his buy-in as a leader, we're happy to see him get rewarded for his efforts," said Steel head coach Carter Foguth.
2nd Star: Jack Johnston, F, Fairbanks Ice Dogs
Honorable Mention (alphabetical): Alec Schwab, D, Chippewa Steel – Mattias Sholl, G, Fairbanks Ice Dogs – Ryan Wilson, G, Springfield Jr. Blues
South Division Star of the Week: Jakub Dobes, goaltender, Topeka Pilots
It was a big week for Topeka Pilots goalie Jakub Dobes. The 19-year-old native of Vitkovice, Czech Republic, won both of his starts this past week, allowing just a single goal on 72 shots in the process. Dobes (6'4/200), who was named to the NHL Central Scouting Players to Watch list for the 2020 NHL Draft, made 24 saves in a 2-1 home win on Thursday over the Amarillo Bulls. On Friday, Dobes made a season-high 47 saves in a 2-0 shutout of the Bulls. To date, Dobes has a 5-2 record for the 1st place Pilots with a 1.56 goals against average and a .945 save percentage. "Jakub has been a steady performer for us thus far. His poise and patience in high-pressure situations has helped our team succeed in close hockey games. Jakub has an extremely bright future, and we couldn't be happier for his success," said Pilots head coach Simon Watson.
2nd Star: Cal Sandquist, G, Corpus Christi IceRays
Honorable Mention (alphabetical): Jeremy Forman, G, Corpus Christi IceRays – Matt Guerra, F, Lone Star Brahmas – Michal Stinil, F, Lone Star Brahmas