NAHL Players listed by NHL Central Scouting
October 7, 2019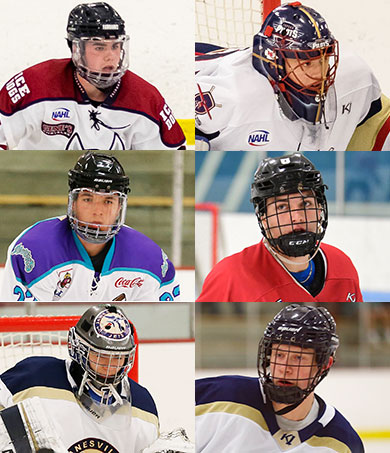 Just a few weeks ago, over 350+ scouts attended the NAHL Showcase. Thanks to another great event and on-ice performances by NAHL teams and players, the NAHL is pleased to announce another milestone in player recognition by the NHL.
16 players with NAHL ties have been recognized on the National Hockey League's (NHL) 'Prospects to Watch' list for 2020 draft-eligible players with the release of NHL Central Scouting's preliminary list of players to watch in North America and Europe.
The list included 14 players that are currently playing in the NAHL this season and two former players in another league.
A total of 69 NHL scouts, including those from NHL Central Scouting, were on hand at the NAHL Showcase two weeks ago scouting players at the NAHL Showcase.
The record-breaking 351 NCAA commitments this past season and 1,400+ NCAA commitments and 30 NHL Draft picks in the last five years have coincided with an increased presence on the annual NHL Central Scouting players to watch list.
The lists, comprised of "A," "B" and "C" players for the upcoming season in each of the major junior hockey leagues, are sent to NHL team scouts for the purpose of tracking the top draft-eligible players entering the 2019-20 season. All "A" skaters have been identified as potential first-round picks, while "B" players are considered second- or third-round candidates. The players on the "C" list are thought to be fourth-, fifth- or sixth-round possibilities. Central Scouting's preliminary rankings will be revealed in November. That list includes the top 25 prospects for each of the various leagues throughout North America and Europe.
This season also features an NHL Central Scouting Players to Watch list (PTW). Along with the six NAHL C-ranked players on the list, NHL Central Scouting is currently tracking eight more NAHL players listed below as WATCH players (potential to be on the A, B, or C list in the future). Players play up or down, and on and off the list as the season progresses.
Current NAHL C-ranked players on the list (alphabetical)
Dylan Abbott, D, Fairbanks Ice Dogs
Jakub Dobes, G, Topeka Pilots
Tim Khokhlachev, F, Shreveport Mudbugs
Zach Michaelis, F, Minnesota Wilderness
Grant Riley, G, Janesville Jets
Casey Roepke, D, Janesville Jets
Current NAHL Players listed as Players to Watch (PTW) by NHL Central Scouting (alphabetical)
Alex Aslanidis, G, Minnesota Magicians
Zane Demsey, D, Chippewa Steel
Jaden Grant, F, Chippewa Steel
Austen Humphrey, F, St. Cloud Blizzard
Kyler Kleven, F, Minot Minotauros
Luc Laylin, F, Minnesota Magicians
Brett Oberle, D, Minnesota Magicians
Dane Stoyanoff, D, Minnesota Wilderness
NAHL players now in another league (alphabetical)
Dylan Moulton, D, Green Bay Gamblers/USHL (Chippewa Steel, 2018-19)
Jack Williams, G, Muskegon Lumberjacks/USHL (Springfield Jr. Blues, Team NAHL, 2018-19)
NHL Central Scouting's preliminary rankings will be revealed in November, then NHL Central Scouting will release its midseason rankings of 2020 draft-eligible players in January, followed by its final rankings in April.
The Montreal Canadiens will host the 2020 NHL Draft at Bell Centre in Montreal, Quebec. Next year's Draft will be held over two days on June 26-27, 2020.