Pilots edge Bulls, 2-1 in Thursday day game
October 3, 2019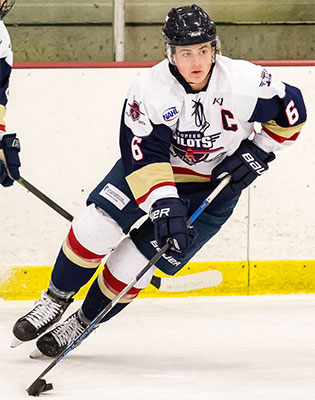 Amarillo 1 @ Topeka 2 - The Amarillo Bulls could not find an answer for Topeka Pilots forward Austin McCarthy, as is two goals led the Pilots to a 2-1 win on Thursday afternoon in Topeka. With the loss, the Bulls have dropped both road meeting with the Pilots by one goal contest, including the 3-2 defeat in the team's opening game.
The first period saw the Bulls lead in the shot totals, forcing the Topeka goaltender, Jakub Dobes, to stop all eight shots he faced. Bulls goalie Max Gutjahr made six saves in the opening frame to keep the game scoreless at the intermission.
The start of the second period would see the scoreless game erased by a McCarthy goal just 31 seconds after the resumption of play, give Topeka the 1-0 lead.
With a crowd in excess of 3,400 school kids cheering on the Pilots, the Bulls found an answering goal from Brendan Blair just five and a half minutes later after Jordan Vegegoni fed Blair the puck from Matt Allen's charge into the zone.
The two teams would remain tied for the remainder of the period, and take a 1-1 score line into the second intermission.
Topeka wasted little time in the third period in its quest to regain the lead, as McCarthy sped down the wing and lifted the go-ahead goal past Gutjahr.
Despite a late powerplay opportunity and an extra skater on the ice for the final minute and a half, the Bulls were unable to overcome the deficit.
Dobes made 24 saves in the win, while Gutjahr made 16 saves in the loss.