NAHL extends partnership with DASH Auction
October 1, 2019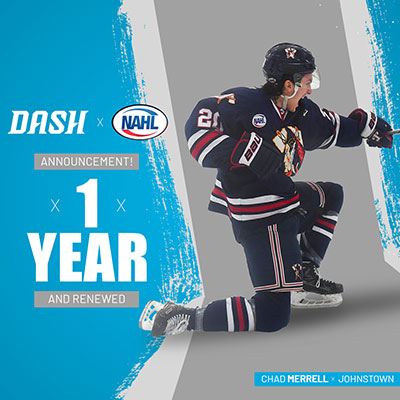 The North American Hockey League (NAHL) has announced it has extended its partnership with DASH, Digital Auction Showdown, as the preferred digital auctions provider for the NAHL, North American Prospects Hockey League (NAPHL) and North American 3 Hockey League (NA3HL) for the 2019-20 season.
DASH is the only digital auction platform built specifically for sports teams and their fans. Teams in the NAHL had tremendous success this past season using DASH. In all, 11 teams in the NAHL used DASH this past season for a variety of online auctions that have become synonymous with teams in the NAHL. The DASH app is designed to enhance a fan's experience before, during & after a game and allows fans to get the most authentic memorabilia and team experiences. The list of auction ideas teams have to choose from is endless.
"This is our fourth season with the NAHL and each season the teams, the league, and DASH elevate their digital auction game for Fans," said Jonathan Hufnagel, Founder of DASH. "This season will be the most exciting yet, with the addition of the Top Prospects Tournament and Robertson Cup events into the DASH Auction calendar. Both events will feature specialty jerseys highlighting the players and teams competing in these once-in-a-lifetime events. Our team at DASH could not be more proud, and excited for the opportunity to showcase the elite level of talent in the NAHL and provide hockey Fans with the best memorabilia possible."
"There have been numerous success stories of how our teams have utilized DASH as a creative, innovative, and efficient way to have success with their online auctions. Most importantly, it has opened up even more opportunities for fans of NAHL teams to be a part of the experience," said Alex Kyrias, Director of Communications, Marketing and Sales for the NAHL.
DASH was founded in 2015 by Jonathan Hufnagel in Plano, Texas. While working for FC Dallas in Major League Soccer, that Hufnagel recognized the opportunity to launch DASH, Digital Auction Showdown. With the prevalence of smart phones in every fans' hand, he recognized the potential in digitizing the team auctions. Through the auctions, fans could connect with their favorite teams in an emotional and engaging way, and at the same time get their hands on the most authentic memorabilia and team experiences. For the teams, they could connect with their fans and drive revenues for other business units of the club as well, such as merchandise, concessions, sponsorships, and ticket sales.
DASH's current clients range from Major League Soccer teams, American Hockey League teams, MiLB baseball teams, WNBA, NLL, NAHL, ECHL, SPHL, USHL, and OHL clubs. For more information about DASH, visit
http://www.dashapp.io/