Generals pick up win in rubber match on Sunday
September 30, 2019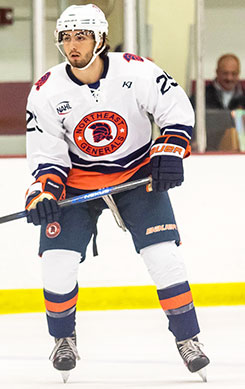 Jamestown 2 @ Northeast 6 - The Northeast Generals put together their best game of the year on Sunday with a 6-2 win over the Jamestown Rebels in the rubber match of the three game series.
The Rebels would strike first on a Matt Hubbarde backhand snipe midway through the 1st period. Later in the period, Michael Heneghan would score to even the game at 1-1 after one period.
The second period would be all Generals as they were able to score three goals in the middle frame. The scoring was started by Liam McCanney and continued with goals by Ricky Boysen and Joe Mancuso. The Generals would lead 4-1 after two periods while outshooting the Rebels 17-6 in the 2nd.
Just :9 seconds into the 3rd period, Gerard Marretta would score his 3rd goal of the season and first 5 on 5 goal to make it 5-1 Generals. The Rebels would score on a power play with under 7 minutes to go to make it 5-2 on a goal from Noah Finstrom. However, the Generals would answer on a beauty from Charlie Reid who capped off a 1 goal and 2 assist game.
Joey Stanizzi made 25 saves in the win, while Jon Howe took the loss, making 26 saves before being relieved early in the 3rd period by Noah West.