Expansion Ice Wolves prep for home opener this weekend
September 26, 2019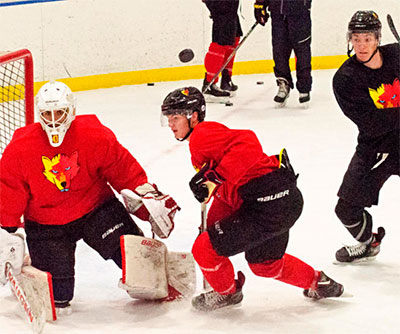 By Glen Rosales, Albuquerque Journal
At the Outpost Ice Arenas in Albuquerque, little fixes are still underway as the NAHL's New Mexico Ice Wolves prepare for the first home game in their history.
Workmen on Wednesday were preparing a screen to protect the new video replay scoreboard, and the VIP lounge was still crowded with tools and chairs.
But owner Stan Hubbard said he was confident all should be ready by the time the puck drops at 7:30 p.m. Friday for the home opener against Odessa.
The team itself, an expansion member of the North American Hockey League, was expected to takes some lumps and bruises as the squad of mostly players between 17 and 20 years old tried to merge into a competitive unit.
After a grueling, six-game, 11-day road trip to Shreveport, La., and Blaine, Minn., the Ice Wolves (0-6) are the league's lone team without any points..
"It's been tough. It's an uphill challenge for sure," said coach Phil Fox. "I think it says a lot when you have a returning group of guys that kind of know the structure and the culture of what you want. It's a lot easier. With that being said, that's not what we have. We have to be prepared. It's going to take time. It's going to take work. It's a process. We just have to stick to it."
The Ice Wolves will be relying on their veteran leadership in the back to really get them moving forward.
Both goaltender Josh Graziano, the No. 2 overall NAHL entry draft selection, and defenseman Keenan Johnson, are playing in their third season in the league, which bills itself as "the oldest and largest junior hockey league of its kind in the U.S.," as it tries to develop talent for college and perhaps even pro teams.
"It's definitely exciting, especially being with an expansion team, that they're willing to make that investment in me and have that confidence in me," Graziano said of being the Ice Wolves' top pick. "I have a lot to undertake this season and I was definitely excited when I saw that."
Thus far, he is sporting a 0-5 record with 4.22 goals-against average.
"I think that there is always some sort pressure, whether it is personal or from the coach's/team perspective," said Graziano, who is from Buffalo, N.Y. "I really don't think anything is different. I'm still motivated and I try to get better every day."