Bismarck forward Schwartz makes NCAA D1 commitment
September 25, 2019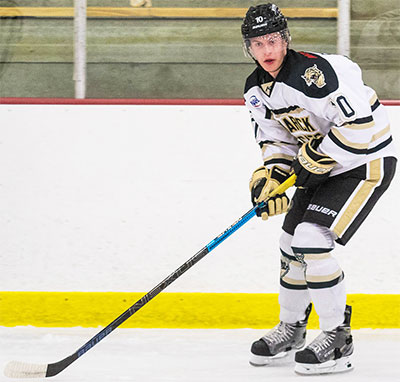 The Bismarck Bobcats of the North American Hockey League (NAHL) are pleased to announce that forward
Austin Schwartz
has committed to play NCAA Division 1 hockey for the Air Force Academy, a member of Atlantic Hockey.
"It's a place where I've always wanted to go," Schwartz said. "I couldn't be happier."
The 5'9/165 lbs. native of Parker, Colorado will return to his home state to play Division I hockey when his junior career ends.
"The character that he brings, the work ethic, that's going to be a great fit," said Bobcats head coach and general manager Layne Sedevie. "He's willing to do whatever it takes."
Schwartz, 18, has played in nine games with the Bobcats, including four this year. He is tied for third on the team in points this season with three, including his first Bismarck goal against New Mexico last week.
"The facilities, the way they treat you at that school, the education purposes there… it's just amazing," Schwartz said. "The opportunity to serve the country, that's always been a big one for me. And you get to play Division I hockey."
"The most important thing that we do for players as a program is move them on and be able to give them an opportunity to play Division I hockey," said Sedevie. "It's become a great thing about this league."
Schwartz will be the second current Bobcat to head to Air Force to play hockey. Co-captain Jacob Marti is also committed to the program.
"I knew him from home, and I've skated with him before, so knowing I'll be able to play with him past juniors and the Bobcats will be really cool," Marti said. "We can continue the brotherhood you get with junior hockey."