Pilots edge Bulls on Monday to take over 1st place
September 17, 2019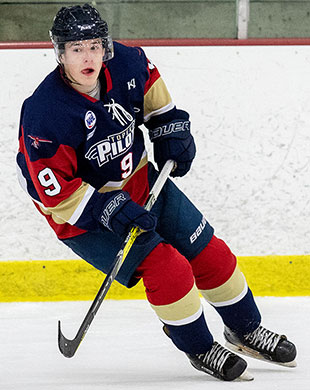 Amarillo 2 @ Topeka 3 – The Topeka Pilots took sole possession of 1st place in the South thanks to a come-from-behind 3-2 win over the Amarillo Bulls on Monday night in Topeka.
The Bulls began the game with a number of chances on net, outshooting the Pilots 16-4 in the opening frame of play. The during the middle of the period, as the physicality began to intensify, the Bulls used their grit to their advantage when Fillip Jakobsson flipped the puck over the glove of Topeka's Jakub Dobes to take the 1-0 lead.
After maintaining the lead into the intermission, the Bulls found themselves on the receiving end of the lopsided shot totals, as Topeka tallied 16 shots in the second period. The newfound offense for the Pilots was accompanied by a pair of goals as Michael Muschitello tied the game on a breakaway, and Austin McCarthy netted a second-chance opportunity past Amarillo's Charlie Glockner to take the 2-1 lead.
The third period saw the Pilots grow their lead to 3-1 as Quinn Green cleaned up a rebound in front of the Bulls net. With time winding down in the game Amarillo's Ryan Tucker found himself alone in the slot and buried a wrist shot to bring the Bulls within a goal. Despite a flurry of chances and an extra-attacker scenario, the Bulls were unable to net the tying goal before the final horn.
Pilots goalie Jakub Dobes made 41 saves in the win, while Bulls goalie Charlie Glockner made 31 saves in the loss.