Saturday Scores: Opening weekend features plenty of sweeps
September 15, 2019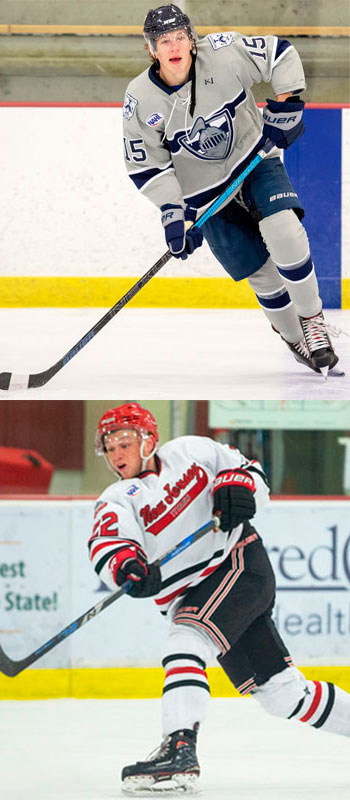 Janesville 3 @ Chippewa 5 - The Chippewa Steel finished their sweep of the Janesville Jets as they pulled off a 5-3 win over their in state rival. Connor Szmul scored twice for the Steel but it was Killian Kiecker-Olson's first of the year that was the game winner for Chippewa as he netted the goal with just 2:23 remaining in regulation. Spencer Oyler scored as well for the Steel and Grisha Gotovets added the empty net goal late. Grant Boldt made 26 saves to grab the win. Parker Lindauer had a goal and an assist, Leo Bacallo and Xavier LaPointe also scored for Janesville. Grant Riley got the loss in the crease, he made 38 stops.
Johnstown 2 @ Wilkes-Barre/Scranton 5 - Brian Smith led the Knights with a goal and an assist as Wilkes-Barre/Scranton completed the weekend sweep of the Johnstown Tomahawks. Lincoln Hatten, Johnny Kaljian, Caydon Meyer and Jeffrey Bertrand all scored in the win. Zach Stejskal was spectacular again as he turned aside 49 of 51 Johnstown shots. Bennett Stockdale and Carson Gallagher provided the offense for Johnstown while Evan Szary made 33 saves in a losing effort.
New Jersey 8 @ Maryland 5 - It was another high scoring affair in Maryland as the Titans and Black Bears combined for 13 goals with New Jersey coming out as the victors by a score of 8-5. Kyler Head netted a hat trick for the Titans while Kyle Jeffers had a goal and two assists and Mitch Machlitt contributed four assists. Matt Cameron lit the lamp twice. Michael Outzen tallied a goal and an assist while Brody Medeiros chipped in a goal as well. Patrick Pugliese came out with the win, he made 29 saves. Wilmer Skoog had a hat trick of his own and added an assist in the loss. Logan Kittleson and Brayden Stannard also scored for the Black Bears. Gavin Abric was dealt the loss, he made 35 saves.
New Mexico 1 @ Shreveport 6 - The Mudbugs found their offense on Saturday night as they exploded for six goals against the expansion Ice Wolves. Jacob Smith netted a pair of goals, Jack Smiley and Anton Rubtsov had a goal and an assist in the win. Rais Francis and Timofei Khokhlachev also scored for Shreveport. Richie Parent grabbed the win in goal as he made 26 saves. Keenan Johnson scored the first goal in Ice Wolves history and Josh Graziano suffered his second loss of the weekend, he made 38 stops.
Maine 6 @ Northeast 7 - Seven different Generals found the back of the net as Northeast survived a wild contest against the Maine Nordiques, 7-6. Ethan Destefani had a goal and three assists to lead Northeast. Joseph LaRossa, Gerard Marretta, Dylan Schuett, Trevor Smith, Jack Ring and Cam Gaudette all lit the lamp in this one. Joe Nagle and Joseph Mancuso both had three assists in the contest. Ethan Racz got the win in goal as he made 29 saves. Noah Kane potted a pair of goals and Trent Grimshaw had a goal and two assists in the loss for Maine. Kevin Pitts and Cale Dubrul each had a goal and a helper. Samuel Harris also found himself on the scoresheet. Connor Androlewicz and Avery Sturtz combined for 28 saves.
Corpus Christi 3 @ Topeka 4 (SO) - For the second straight night, 60 minutes wasn't enough for Corpus Christi and Topeka. Alexander Oberg scored the only goal in the shootout as the Pilots snagged their first win of the season, 4-3. Connor Zilisch had a goal and an assist. Jordan Gonzalez and Luke Suter also scored for the Pilots. Tyler Bost stopped 32 of the 35 shots thrown in his direction to earn the win. Shane Bull added another goal on the weekend for the IceRays, Evan Carroll and Ryan Coughlin also scored for Corpus Christi. Jeremy Forman took the loss as he made 27 saves.