Young chasing the dream of becoming an NHL official
September 12, 2019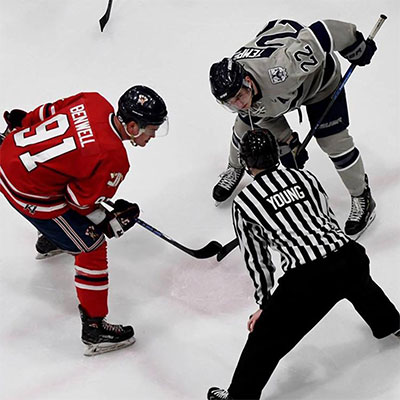 By Heather Engel, NHL.com
It didn't take long for Jack Young to know what he wanted to be when he grew up.
When he was 8 years old, he attended a Chicago Wolves American Hockey League game and was not only drawn to the officials, he was instantly hooked.
"As a young kid there are certain things, you get obsessed with them," Young said. "I was at the game and those guys in stripes, I got obsessed with it and I fell in love with it."
So much so, his parents bought him a referee sweater when he was 10.
"I don't know if he felt bad for them because I used to yell at them," said his dad, Wendell Young, who was an NHL goalie for 10 seasons and also served as an assistant for Chicago of the AHL for six seasons before becoming GM in 2009. "But he would look up to the refs at our games more than he would look up to our players."
And though other kids went to hockey games in attire representing their favorite teams and players, Jack Young would be by the glass sporting the same black and white stripes and orange armband as the referee on the ice.
Once before a game, official Kyle Rehman called Young into the official's room and gave him his card, a whistle and his NHL referee sweater. "I still to this day honor and cherish the sweater," Young said.
Though he doesn't wear that same sweater, the black and white stripes have become his work wardrobe as Young, now 18, is pursuing a career as an official.
In August, he participated in the sixth annual NHL Exposure Combine, held at Harborcenter. The combine is where prospective officials go through fitness testing and drills in hopes of climbing the officiating ranks. For the second straight year, Young was the youngest of the 96 invited.
His career began with reaching out locally in Illinois, working mites and squirts to midget and high school hockey. That helped him earn a spot in USA Hockey's Officiating Development Program, through which opened doors to work games in the North American Hockey League (NAHL), including the 2019 Robertson Cup Final, and United States Hockey League.
"That was eye-opening for me because I was the youngest one in that program and working those games," said Young, who became a certified official when he was 15. "I was the same age as or younger than a lot of those players. That experience is very valuable, a great learning experience."