New Jersey forward Merrill makes NCAA commitment
September 11, 2019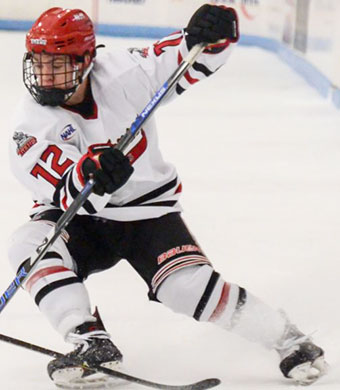 The New Jersey Titans of the North American Hockey League (NAHL) are excited to announce that forward
Connor Merrill
has committed to play NCAA Division III hockey at Amherst College for the 2019-20 season.
Merrill, 20, was acquired by the Titans midway through the 2018-19 season. In eight games played, the 5'8/150 lbs. native of Nashville, Tennessee recorded four points (1 goal, 3 assists) before his season was cut short due to an injury.
Titans head coach Craig Doremus spoke about the positive influence Merrill made in the locker room during his tenure with the team. "Connor's passion and work ethic were infectious throughout our team. His ability to play up and down our lineup helped us so much. Connor suffered an unfortunate long-term injury and our team greatly missed him down the stretch. We wish nothing but the best for Connor and his family as he continues his hockey and academic career at Amherst."
Amherst College is a Division III program located in Amherst, Mass. Competing in the New England Small College Athletic Conference, the Mammoths are coached by Jack Arena. Merrill spoke about his commitment to the program and why he looks forward to spending his time there both on and off the ice.
"It means a lot. Not only has Amherst developed a rich tradition of successful hockey, but also the academics are second to none. I looked at the big picture, not just hockey, and Amherst was the perfect fit for me," Merrill said.
While his time with the Titans was brief, Merrill proved to be a versatile player who could fit anywhere in the lineup and make his teammates better in the process. He credited his teammates for making him feel welcome in Middletown while improving his game at the NAHL level.
"With the Titans my time was cut short due to a couple of injuries, but it was well spent there. I learned a lot from the older guys on the team, and the Titans showed me what a true team was like," Merrill said. "They were all supportive throughout the time I got to Middletown to the time I left."