26 in 26: St. Cloud Blizzard
September 11, 2019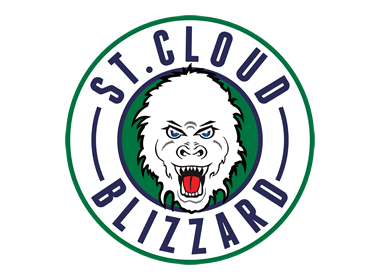 The 26 in 26 series features a look at all 26 teams in the NAHL for the 2019-20 season, with a new team being highlighted daily, leading all the way up until the start of the regular season. 26 in 26 looks into each NAHL team and will include video interviews with 26 coaches in the NAHL, as they provide fans with their expectations and outlook for the season, including taking a look at their strengths as a team and thoughts on the league. It will also take a look back on last season and how each team fared and what they accomplished.
St. Cloud Blizzard
Head Coach: Moe Mantha (3rd year)
2018-19 record: 11-44-5, 27 pts. (6th in the Central Division) *As the Brookings Blizzard
2018-19 leading scorer: Gabe Wahl (27 pts.)
2019 Playoffs: Did not qualify
2019-20 Division: Central
First regular season game: Wednesday, September 18th vs. Corpus Christi IceRays
Home opener: Friday, September 27th vs. Minot Minotauros
The 2018-19 season did not go well for the Blizzard right from the very start. A long losing streak at the beginning of the season put them in a deep hole that they could not dig themselves out of. In their final season in Brookings, the Blizzard finished with a 11-44-5 record.
Moving forward, the Blizzard will call St. Cloud, Minnesota home as the team transitions from South Dakota to the state of hockey. The Blizzard will play out of the St. Cloud Municipal Athletic Complex. The building holds room for about 2,100 spectators and also is the home for St. Cloud youth hockey as well as some high school and Division III hockey.
"In my two years in Brookings, I met some real good fans, some real good families. Our billet families were awesome. They go above and beyond the call of duty to help our players. I met some friends there that I hope to always stay in touch with," said St. Cloud head coach and general manager Moe Mantha. "With the move to St. Cloud, it's exciting for our players. We're about an hour away from the Twin Cities and we're moving closer to a lot of colleges that are around the area. I'm really happy for our players and getting them more exposure."
St. Cloud will have to improve on both ends of the ice. Last season, the Blizzard scored just 115 goals, an average of just 1.91 goals per game. That would rank last among the 24 NAHL teams. On defense they were slightly better, ranking 23rd in goals against as they allowed 242 goals by opponents.
"Last year was a big step backwards and a big disappointment but overall we made a decision to go with a lot of young players. We gave a lot of 2001s, 2000s, and 1999s a lot of ice time for their growth and development. The season is what it was, we paid the price to help our players develop and come back ready for this year," said Mantha. "We have a lot of our players coming back so they understand my system and they'll understand where I'm coming from. Should be exciting times for our players, last year was a developing year for our players to understand what it takes to play in the North American Hockey League."
Bud Winter leads the forward group returning to the Blizzard this year. The St. Louis, Missouri native, was the leading goal scorer from a season ago as he lit the lamp 13 times and ended his season with 23 points. Winter will be entering his final season of junior hockey.
Also returning to the team this season are forwards Ryan Green and Luke Aquaro. Green from Muskego, Wisconsin, potted eight goals and finished with 21 points. Aquairo, who is from Yardley, Pennsylvania, netted seven goals and 21 points in his first season of junior hockey. Brady Bjork had seven goals and 13 points in 51 games last year.
Brock Draeger is the top defenseman returning from last season, he played in 58 of the 60 games last season, scoring three time and adding 12 assists. Ryan Reid will also seek more responsibility on the back end as he had five goals and 13 points in 44 games last season. Jack Caruso returns to man the crease for St. Cloud. The goaltender looks to improve upon his .897 save percentage from the 2018-19 season.
The final season in Brookings may not have been what they wanted but the Blizzard are hopeful their new home in St. Cloud will provide them with a clean slate to start over.
Next up: Topeka Pilots