26 in 26: Shreveport Mudbugs
September 9, 2019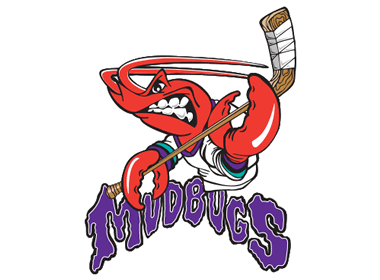 The 26 in 26 series features a look at all 26 teams in the NAHL for the 2019-20 season, with a new team being highlighted daily, leading all the way up until the start of the regular season. 26 in 26 looks into each NAHL team and will include video interviews with 26 coaches in the NAHL, as they provide fans with their expectations and outlook for the season, including taking a look at their strengths as a team and thoughts on the league. It will also take a look back on last season and how each team fared and what they accomplished.
Shreveport Mudbugs
Head Coach: Jason Campbell (2nd Year)
2018-19 record: 28-22-10, 66 pts. (3rd in the South Division)
2018-19 leading scorer: CJ McGee (43 points)
2019 playoffs: Lost to the Amarillo Bulls in the South Division Finals, 3 games to 2
2019-20 Division: South
First regular season game: Friday, September 13th vs. New Mexico Ice Wolves
Home opener: Friday, September 13th vs. New Mexico Ice Wolves
The 2018 Robertson Cup champions came into the 2018-19 season with sky high expectations as the Mudbugs eyed a return trip to Blaine. Shreveport went through an up and down year that saw them hover around the .500 mark for most of the season. Despite these struggles, the Mudbugs took down the Lone Star Brahmas in an instant classic as they moved on to the South Division Finals after a 3-2 win in triple overtime in Game 5 of the division semis.
The Mudbugs held a 3-0 lead in Game 3 of their series with Amarillo, but a miraculous comeback from the Bulls gave Amarillo a 2-1 series lead. After recovering in Game 4 to force a winner-take-all Game 5, the Mudbugs ran out of gas as they watched the Bulls advance to the Robertson Cup and their back-to-back dreams come to an end.
"In the end, we had a pretty good season but I thought our inconsistency finally nipped us in that Game 5 in Amarillo. We didn't show up that last game and ultimately cost us. So that's one of our main focuses this year is to dial it in a little bit and start playing some consistent hockey throughout the year," said Shreveport head coach Jason Campbell. "We expect ups and downs, but it was just a bit of a roller coaster last year and in the end it hurt us. Overall happy with last year but not satisfied."
The Mudbugs will be bringing back a few veterans this coming season as Maiszon Balboa returns for his second season in Shreveport. Last year, the goaltender from Colorado Springs went 11-9-2 in 23 games played. He had a .911 save percentage and a 2.66 goals against average. He's currently committed to Air Force.
Anton Rubtsov leads the returning forwards as the Russian native had nine goals and 23 points in 49 appearances last season. In nine postseason games, Rubtsov scored twice including one game winner. He was also named to the NAHL Top Prospects Tournament in 2019.
Warren Natyshak is coming back for his 3rd year in the purple and teal as the forward from Toledo, Ohio looks to improve upon a solid 2018-19 season. In 52 games, Natyshak netted 11 goals and 19 points. He's played 74 career games in a Mudbugs uniform and over that time has 13 goals and 26 points.
Connor Witherspoon also returns up front for the 'Bugs. From Metamora, Michigan, Witherspoon lit the lamp seven times and finished with 21 points in 45 games played. He also potted a pair of goals while playing in all 10 postseason games for Shreveport last season.
The Mudbugs are just a year removed from their championship and still have a few bodies around from that championship team that knows what it takes to reach the mountain top.
"It's going to take total commitment. Guys are really going to have to buy into what we're doing and going to have to get out of their comfort zone if they want to improve and get better," said Campbell. "They're going to have to bring everything they've got to the table and then dig a little deeper and find some more to contribute. In the end, we just hope everyone buys in and commits to what we're doing here in Shreveport."
Next up: Springfield Jr. Blues