26 in 26: Minot Minotauros
September 4, 2019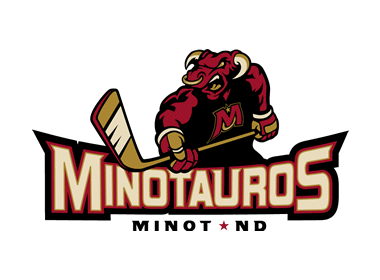 The 26 in 26 series features a look at all 26 teams in the NAHL for the 2019-20 season, with a new team being highlighted daily, leading all the way up until the start of the regular season. 26 in 26 looks into each NAHL team and will include video interviews with 26 coaches in the NAHL, as they provide fans with their expectations and outlook for the season, including taking a look at their strengths as a team and thoughts on the league. It will also take a look back on last season and how each team fared and what they accomplished.
Minot Minotauros
Head Coach: Marty Murray (9th Year)
2018-19 record: 36-21-3, 75 pts. (2nd in the Central Division)
2018-19 leading scorer: David Raisanen (50 pts.)
2019 Playoffs: Lost to the Aberdeen Wings in the Central Division Finals, 3 games to 1
2019-20 Division: Central
First regular season game: Wednesday, September 18th vs. Springfield Jr. Blues
Home opener: Friday, October 11th vs. Aberdeen Wings
Coming off an appearance in the Robertson Cup championship game in 2018, expectations were high for the Minot Minotauros coming into last season. With 36 wins and 75 points, the Minotauros certainly lived up to the hype last season as they finished in second place in the Central Division. After sweeping the Bismarck Bobcats in the first round, Minot was pitted against Aberdeen for the right to go to the Robertson Cup. After stealing game one in overtime on the road, the Wings won three straight games to take the series and halt the Minotauros playoff run.
"When you don't win that last game of the season it's always a little disappointing, but if you take a step back, overall were proud of what we accomplished both on and off the ice. The community support we're getting in Minot is tremendous with the new arena. We're getting a number of commitments here in the last few years and it makes recruiting easier," said head coach Marty Murray. "We had a good team last year, the Central is very difficult to get out of and we gave Aberdeen a run in the division final but, they're the league champions and a heck of a team, we came up a little short. We have a lot of things to be proud of and now we chomping at the bit to get there this year."
Coach Murray estimates that his team will lose close to 14 players from last year's club with aging out players, commitments and advancement within junior hockey. That means his staff has been working even harder, looking for the next crop of Minotauros.
"We were old last year. We have a lot of holes to fill, more than we've had in the last few years. We feel good about our recruiting and some of our draft picks we had. Of course, we've got to have some things fall into place but we feel good about our protected list. We feel we'll be competitive this year going into the fall," said Murray.
A couple of veteran guys that will be coming back for the Minotauros include Matthew Gellerman, Sam Skinner and Ben Garrity
Gellerman only played in 42 games a season ago but contributed seven goals to go with 19 points. He also tallied a goal and two assists in five playoff games.
On the blue line Sam Skinner and his 14 points return to Minot. Skinner only appeared in 33 games for the Minotauros last season but got an early start to his 2019-20 season as he represented Minot with Team NAHL in Russia at the 2019 Junior Club World Cup. That team finished the tournament with a 2-2 record and a fifth place finish.
In the blue paint, Ben Garrity returns for his second season. In 2018-19, the Rosemount, Minnesota native posted a record of 15-10-2. He finished with a goals against average of 2.52 and a save percentage of .917. Garrity also had two shutouts last season.
The Minotauros were just a goal away from a championship in 2018 and after not making it back to Blaine in 2019, they are starving for a chance to get to the mountain top of the NAHL. Getting out of the grueling Central Division won't be an easy task as they'll have to dethrone the reigning champions to get where they want to go.
Next up: New Jersey Titans