26 in 26: Johnstown Tomahawks
August 28, 2019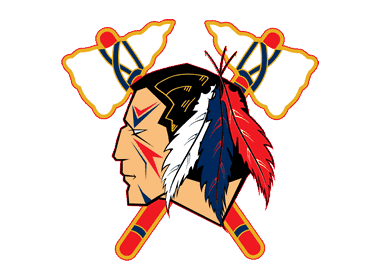 The 26 in 26 series features a look at all 26 teams in the NAHL for the 2019-20 season, with a new team being highlighted daily, leading all the way up until the start of the regular season. 26 in 26 looks into each NAHL team and will include video interviews with 26 coaches in the NAHL, as they provide fans with their expectations and outlook for the season, including taking a look at their strengths as a team and thoughts on the league. It will also take a look back on last season and how each team fared and what they accomplished.
Johnstown Tomahawks
Head Coach: Mike Letizia (6th Year)
2018-19 record: 47-9-4, 98 pts. (1st in the East Division)
2018-19 leading scorer: Carson Briere (89 pts.)
2019 Playoffs: Won East Division, lost to the Fairbanks Ice Dogs in the Robertson Cup Semi-Finals, 2 games to 1
2019-20 Division: East
First regular season game: Friday, September 13th @ Wilkes-Barre/Scranton Knights
Home opener: Friday, September 27th vs. New Jersey
No team in the North American Hockey League enjoyed a bigger turnaround than the 2018-19 Johnstown Tomahawks. After finishing the previous season with only 50 points, the Tomahawks turned things around and had the best year in team history. They finished this past season with 47 wins and 98 points, a 48-point improvement.
Johnstown was dominant in the East Division, securing first place by 20 points. They had one of the league's most prolific offenses, lighting up opponents for 245 tallies, good for third in the NAHL. The Tomahawks we're lethal with the man advantage as they finished with a power play percentage of 27%, scoring on 78 of their 289 chances.
This success on offense propelled them to the Robertson Cup in Blaine, Minnesota as the East Division representative. The Tomahawks exploded for seven goals in their Game 1 victory over Fairbanks. Unfortunately, that's where Johnstown saw their magical season come to an end as the Ice Dogs won the next two games to advance to the Robertson Cup championship game.
"All and all, it was a great year," head coach Mike Letizia said. "We fell just a game short of reaching the championship against a really good Fairbanks club. But ultimately, I think for our group of guys, the relationship that these guys built, the camaraderie we had as a team was really special. When you look at everything, obviously on the ice, we had a lot of accomplishments there but when you can have that morale built in your locker room, I think that's an accomplishment in itself."
In 2019-20, the Tomahawks will have a lot to replace, both Carter McPhail and Cooper Lukenda are off to college. Carson Briere, Cam Hebert, Samuel Solensky and Oliver Benwell are all moving on as well. In total, 15 Tomahawks players earned a NCAA commitment. Letizia is confident that some of his veterans will fill the void left by those guys.
"We're hoping guys who played a good role for us last year will be able to step up and have a bigger role with increased opportunity. We we're also able to go out and get guys we feel can come in and make an immediate impact," said Letizia
The Tomahawks will return their captain Chris Trouba. The defenseman going into his fourth NAHL season has played his entire junior career with the Tomahawks. He was named to the Robertson Cup All-Tournament team for his efforts this past May.
Bennett Stockdale will be the top forward returning to Johnstown this season. From Ottawa, Ontatrio, Stockdale potted 17 goals while adding 22 assists while playing in all 60 regular season games. Colin Price will also be back for the Tomahawks. In 58 games last season, Price scored 13 times and finished with 26 points. Pavel Kharin will be back for his third season with the Tomahawks. He found the back of the net six times and ended the year with 14 points.
With a monster season, comes heightened expectations for the Tomahawks, something the Letizia understands well.
"Now we've gotten a taste of what's it like to win your division in the regular season and win your division in the playoffs and get out to the Robertson Cup. I think our goals and expectations have increased. I think that's a healthy thing for our group. We want to be very good, we want to be consistently good. We have to be strong to play against at home and on the road," Letizia said.
"When our team does well, it helps individuals as well and I think the players are going to reap the rewards. It's two-fold, you want to do well as a team but you also want to develop players and see them move on to the next level. That's our big hope this year and our ultimate goals, just looking forward to getting started."
Next up: Kenai River Brown Bears