Team NAHL gets big first win at World Cup, 3-2
August 26, 2019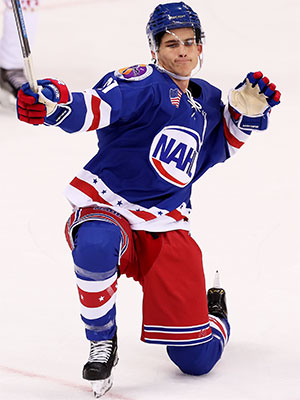 2019 Sirius Ice Hockey World Cup, Game 2: Team NAHL 3 vs. Red Bull Salzburg (Austria) 2 - Team NAHL picked up a big first win of the 2019 Sirius Ice Hockey World Cup on Monday night at the Shayba Arena, as they defeated Red Bull Salzburg (Austria), 3-2.
Team NAHL dominated the opening 30 minutes of the game, and were finally able to break through 15 minutes into the 1st period as a shot from Tyler Love (Corpus Christi IceRays) from the point was saved by Red Bull goalie Christopher Kolarz, but the rebound went to the tape of Nick Trela (Amarillo Bulls), who popped the water bottle with a rebound goal and a 1-0 lead for the North American Hockey League.
In the 2nd period, the NAHL continued the momentum and made it 2-0 thanks to a great individual effort by Killian Kiecker-Olson (Chippewa Steel), who was denied on his first effort and got knocked down to his knees, only to get up and steal back the puck and send a wrist shot over the glove of Kolarz for a 2-0 lead.
Less than five minutes later, the Team NAHL lead swelled to 3-0 as the dominance of the first half continued. This time, forward Billy Feczko (Shreveport Mudbugs) jumped off the bench, intercepted a Red Bull pass, skated in and wired a shot that went bar down for a three-goal advantage.
Red Bull Salzburg would get on the board later in the 2nd period as defenseman Pontus Englund converted on a 2 on 1, as he caught NAHL goalie Jake Williams (Springfield Jr. Blues) moving to his left and then fired a shot to the right past Williams' blocker side.
Team NAHL went into defensive mode in the 3rd period and thanks to some great defense and timely saves from Williams, kept Red Bull off the board. With 10 minutes remaining in the 3rd period, Red Bull cut into the lead again and made it 3-2 as Robert Arrak took advantage of a failed clearing attempt and potted home a rebound past a sprawled Williams to make it 3-2.
The rest of the period, Team NAHL held tight and played solid defense to pick up the win and the valuable three points and stay alive in the Tournament.
Red Bull outshot Team NAHL 23-21 in the game with Williams making 21 saves in the win, while Kolarz made 18 saves in the loss.