August 23, 2019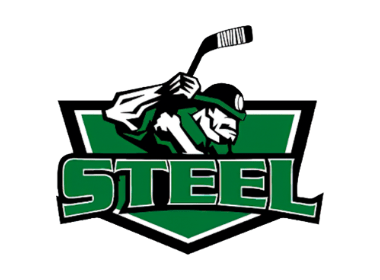 The 26 in 26 series features a look at all 26 teams in the NAHL for the 2019-20 season, with a new team being highlighted daily, leading all the way up until the start of the regular season. 26 in 26 looks into each NAHL team and will include video interviews with 26 coaches in the NAHL, as they provide fans with their expectations and outlook for the season, including taking a look at their strengths as a team and thoughts on the league. It will also take a look back on last season and how each team fared and what they accomplished.
Chippewa Steel
Head Coach: Carter Foguth (1st Year)
2018-19 record: 19-38-3, 41 pts. (6th in the Midwest Division)
2018-19 leading scorer: Jacob Dirks (40 pts.)
2019 Playoffs: Did not qualify
2019-20 Division: Midwest
First regular season game: Friday, September 13th @ Janesville Jets
Home opener: Saturday, September 14th vs. Janesville Jets
The first season of NAHL hockey in Chippewa did not go the way the Steel had hoped it would go on the ice. After starting the season with a 3-2 record, Chippewa dropped their next 13 games. Another eight game slide in the fall resulted in a coaching change and a last place finish in the Midwest Division. The team struggled to put pucks in opposing net, ranking 20th in goals scored, and keeping pucks out of their own net, finishing 21st in goals allowed.
There were some bright spots throughout the season, young forwards Camden Thiesing and Killian Kiecker-Olson finished second and third, respectively, on the Chippewa points leaderboard. Seven players earned a NCAA commitment and crowds filled Chippewa Area Ice Arena all year long.
Carter Foguth took over as the interim head coach in late November and guided the team to a nice finish down the stretch and had the interim tag removed this summer. He's grateful for the few months he had as the bench boss and looks forward to having familiar faces this coming season. "Last year we had a very young team so we're very fortunate heading into next year that we'll get a lot of those guys back," said Foguth. "It was very valuable, the couple of months I was able to be the interim coach. For me, it's working hard and preparing and making sure I'm in a position to give those guys everything they need."
The Steel will be in good shape offensively. Three of their top four scorers from last season will be returning for another year in Chippewa. Last year's leader scorer, Jacob Dirks had 24 goals and 40 points while playing in all 60 games last season. Dirks will be entering his final year of juniors looking to put up big numbers and secure a NCAA commitment.
Killian Kiecker-Olson corralled 15 goals and 35 points in 59 games played. Kiecker-Olson was also named to the Selects Red team at the Top Prospects Tournament. The forward from Andover, Minnesota will also be representing the NAHL at Sirius World Cup in Sochi, Russia next week. Connor Szmul also returns for the Steel as he potted 16 goals while adding 14 assists to give him 30 points in his second NAHL season. Getting these three back will be of huge importance for Chippewa as they try to improve an offense that ranked 20th out of 24 teams with just 149 goals scored.
With his first full year as a head coach quickly approaching, Foguth wants his guys to only play at one speed. "We want to play fast. We want guys that can skate so that's what we we're looking for in the draft and the tender process," Foguth explained. "I think with today's game, the speed that you have to be able play with, we want guys that are able to do that, both offensively and defensively. That's the kind of style we're looking to impose in Chippewa and I think we we're able to do that with the guys we signed and drafted. That's our style of play, to play with speed, play physical and play hard and that's kind of our brand of hockey."
The second season of NAHL hockey in the Chippewa Falls area will be a big one as Foguth looks to instill a first class culture in a hockey crazy state. "My goal for my first full season as head coach is to establish a championship culture for our organization on and off the ice. We want players to come here and have pride in playing for the Chippewa Steel," Foguth said. "As the coach I want to push these players to get the best out of them as players and young men. Our players will be active members of our community and we're looking to take a step forward in our on ice production to compete in our division."
Next up: Corpus Christi IceRays