26 in 26 season preview series begins in one week
August 12, 2019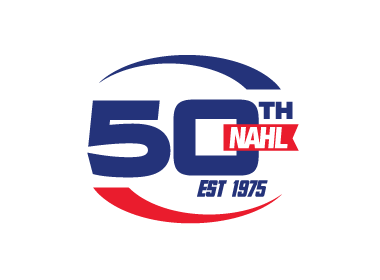 One week from today, the North American Hockey League (NAHL) is pleased to be continuing a season preview series exclusively on nahl.com and the NAHL Twitter, Instagram and Facebook pages.
Starting on Monday, August 19th the league will spend 26 days highlighting all 26 teams leading up to the first NAHL regular season game of the 2019-20 season on September 13th in a series entitled: '26 Teams in 26 Days.'
During the 2018-19 season, the NAHL set a new single-season NCAA commitments record with 348 commitments, including 228 NCAA Division I commitments, which was also a new record. In addition, six players with NAHL experience were selected in the 2019 NHL Draft.
26 in 26 will go in-depth into each NAHL team and will include video interviews with all 26 NAHL head coaches, including all five of the new NAHL head coaches, as they provide an outlook and break down their rosters and schedule for the upcoming season.
It will also take a look back on the 2018-19 season and how each team fared and what they accomplished. Best of all, 26 in 26 is here to provide the fans of the NAHL with an insiders look at their favorite team and what to expect.
The majority of NAHL rosters are in their final stages of determining a 30-man list for training camps. 26 in 26 will also provide fans with insight on key returning players and players that will be new to each team's roster.
The planned schedule of featured teams for the 26 in 26 series will be as follows (teams will be featured in alphabetical order):
Monday, August 19: Aberdeen Wings
Tuesday, August 20: Amarillo Bulls
Wednesday, August 21: Austin Bruins
Thursday, August 22: Bismarck Bobcats
Friday, August 23: Chippewa Steel
Saturday, August 24: Corpus Christi IceRays
Sunday, August 25: Fairbanks Ice Dogs
Monday, August 26: Jamestown Rebels
Tuesday, August 27: Janesville Jets
Wednesday, August 28: Johnstown Tomahawks
Thursday, August 29: Kenai River Brown Bears
Friday, August 30: Lone Star Brahmas
Saturday, August 31: Maine Nordiques
Sunday, September 1: Maryland Black Bears
Monday, September 2: Minnesota Magicians
Tuesday, September 3: Minnesota Wilderness
Wednesday, September 4: Minot Minotauros
Thursday, September 5: New Jersey Titans
Friday, September 6: New Mexico Ice Wolves
Saturday, September 7: Northeast Generals
Sunday, September 8: Odessa Jackalopes
Monday, September 9: Shreveport Mudbugs
Tuesday, September 10: Springfield Jr. Blues
Wednesday, September 11: St. Cloud Blizzard
Thursday, September 12: Topeka Pilots
Friday, September 13: Wilkes-Barre/Scranton Knights