Knights forward Starzi makes NCAA commitment
July 24, 2019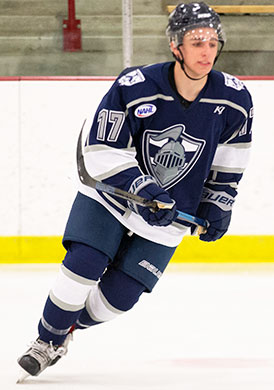 The Wilkes-Barre/Scranton Knights of the North American Hockey League are pleased to announce that forward
Anthony Starzi
has committed to play NCAA Division III hockey for Stevenson University for 2019-20.
"Definitely a huge relief to finally get that commitment," said Starzi. "I couldn't be happier going to Stevenson. I truly feel that coach Dawes and coach Peffall have something special going on down there and I had to be a part of it."
Starzi, 21, will join a Division III school in the Mid-Atlantic Conference. The Stevenson Mustangs are led by head coach Dominick Dawes and assistant Tom Peffall. Both have experience in coaching winning hockey programs at Neumann University prior to arriving at Stevenson. Starzi already has some familiarity with Peffall, who served as an assistant coach with the Philadelphia Rebels last season; a team Starzi was called up to and played five games for.
The 5'9/170 lbs. native of Chadds Ford, Pennsylvania, just completed second season with the Wilkes-Barre/Scranton Knights organization after spending the bulk of his youth hockey days in the Philadelphia Little Flyers system, which included playing 25 games in the NAPHL during the 2015-16 season for the Little Flyers 18U team.
Starzi began the 2018-19 season playing for the Knights in the NAHL where he appeared in 15 games and recorded two points. Later in the season, he spent time with the Knights team in the EHL recording 32 points in 23 games played.
Like anybody else, Starzi has dealt with conflict in his hockey career. Earlier this season, a decision was made to return the '98 forward to the EHL affiliate. While it wasn't easy, he stayed positive and with the help of coach Fusco, Starzi remained diligent on the ice. Though there are new coaches waiting for him at Stevenson, he believes the one from Wilkes-Barre will be with him too.
"Definitely been a long road, but I knew when I got sent down that it was the right thing for me and that kept me going. I've had a great coaching staff with coach Kowal and coach Whiteside, but especially coach Fusco. I can't say enough great things about him. I know he worked extremely hard to help me and do whatever he could, whether that was motivating me when I came down or calling schools. In the end, I know he'll always be there and that's a special relationship to have with a coach."
The feelings are reciprocated from Josh Fusco himself, who refers to his committed player as an "interesting" character to say the least.
"This commitment is because of hard work, dedication, and constant motivation," said Fusco. Starzi is like the terminator. He gets knocked down and comes back harder every single time."
"Over the past two years, besides his speed and skill, the things people don't see is his will to learn and get better. He has put so much work in off the ice learning the game, learning the systems and he's gone on the ice and worked at every aspect of the game, making him a well rounded player. The reward was the call-ups to the NAHL, but in the end the ultimate reward is this. You can never be disappointed with this kid. I'm so happy for him and his family and the staff at Stevenson."