IceRays announce coaching change
July 22, 2019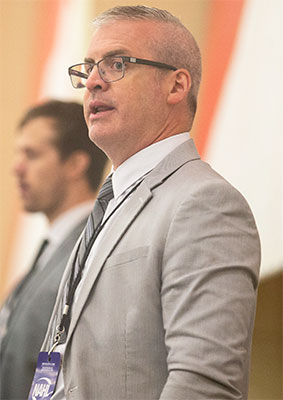 The Corpus Christi IceRays, proud members of the North American Hockey League (NAHL), announced Monday the team has promoted assistant coach Al Rooney to the role of IceRays Head Coach, effective immediately.
The promotion coincides with the announcement that now-former IceRays Head Coach Ryan Cruthers has accepted a position as an assistant coach with the NCAA Division I Robert Morris University Men's Hockey team of Atlantic Hockey.
Rooney, 46, officially joined the IceRays' staff Jan. 4, bringing a wealth of coaching experience to the Coastal Bend. The Deer Park, N.Y., native previously served as head coach and general manager for the NAHL's Chippewa Steel (2018-19), associate head coach and goaltending coach for the Austin Bruins (2017-18), and assistant coach of the 2016-17 Robertson Cup champion Lone Star Brahmas.
Prior to that Rooney was a head coach in the NA3HL for the Texas Brahmas during the 2014-15 and 2015-16 seasons.
"I'm thrilled, honored and humbled by this opportunity granted to me by the IceRays organization," said Rooney. "In working alongside the staff and ownership here the past six months, it has been great to have the chance to develop relationships with everyone."
"I can't wait to work with Al in an expanded role moving forward," said IceRays President Cassidy Lange. "He has continually impressed me since joining us in the middle of this past season. I am very confident that he will make the transition from assistant coach to head coach smoothly and be a great fit for our organization."
Prior to his coaching career, Rooney was a goaltender for eight seasons of minor-league hockey, primarily in the CHL (Amarillo Rattlers, San Angelo Outlaws, Huntsville Tornado, Nashville Nighthawks) and WPHL (San Angelo Outlaws, Abilene Aviators, Lake Charles Ice Pirates, Fort Worth Brahmas), where he faced the pro-hockey-era Corpus Christi IceRays.
"Coach Cruthers left the roster in great shape and there is strong and competent ownership to work under," continued Rooney. "We play in the nicest facility in the league, in a beautiful city right on the Gulf, in front of the best and largest crowds in the NAHL. I could not have asked for a better scenario to find myself in and can't wait for the season to get started."
Rooney will lead the IceRays' Main Camp efforts later this week in Detroit.
"On behalf of the entire organization, the IceRays would like to thank Ryan Cruthers for everything he has done for this franchise during the past season," said Lange. "We accomplished what many thought was impossible, including taking a commanding 2-0 playoff series lead against the Amarillo Bulls. Ryan's future is very bright and I can't wait to see where his career path leads him. He will always be considered part of the IceRays family. We wish him the very best in his future. Robert Morris is not only getting a very good coach but a very good person as well."
Cruthers is former standout player for Robert Morris (2008) and will join former coach Derek Schooley's coaching staff as an assistant.
"Since retirement from pro hockey, Ryan has gained tremendous experience coaching in two of the premier junior leagues in the country. With that, we believe he will help our hockey program to take the next step. The fact that he's an alum adds value, as well. Ryan was a very talented offensive player," said Schooley, who is the only head coach in the history of the program. "We believe, with his experiences, he will help to continue to develop our forwards and help our power play."
Cruthers, 35, transferred to RMU in 2005 after two years at the United States Military Academy. The New York native led the Colonials in scoring in both 2006-07 and 2007-08, the latter of which he spent as team captain. He scored 39 goals and 86 total points in his two RMU seasons, finishing third in NCAA Division I in points per game in his senior season, when he was named the College Hockey America Player of the Year. He was also nominated for the Hobey Baker and Senior CLASS awards before embarking on a professional career.
"I'm really excited," Cruthers said. "This is an unbelievable opportunity. I was part of building the RMU program and I'm excited to be back."