NAHL alumni take part in NHL Development Camps
July 8, 2019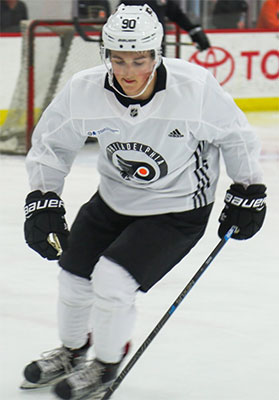 Every summer provides the annual opportunity for dozens of NAHL alumni to attend annual development and prospect camps across the NHL.
All the NHL teams hold their development/prospect camps in late June and early July. Former NAHL players were once again a significant part of the mix as over 90+ alumni are currently at camps.
The numerous NAHL alumni at NHL development/prospect camps come on the heels of a memorable season for the NAHL.
The NAHL recently set another new single-season NCAA commitments record. With 335 commitments to date, the has topped its total of 331 last season. It also includes 224 NCAA Division I commitments this past season, which is a new record.
The league also saw six players with NAHL experienced selected in the 2019 NHL Draft held a couple of weeks ago in Vancouver, BC.
Below is a team list of NAHL alumni at 2019 NHL development/prospect camps:
*Know of anyone we missed? Please send us an
email
.
Arizona Coyotes
Kelly Klima (Springfield)
Ivan Prosvetov (MN Magicians)
Boston Bruins
Matt Brown (Odessa)
Nathan Burke (Aberdeen)
Cam Clarke (Lone Star)
Brandon Estes (Lone Star)
Drew O'Connor (New Jersey)
Cooper Zech (Odessa)
Buffalo Sabres
Eric Cooley (Amarillo)
Dawson Dipietro (Topeka, Coulee Region, Austin, Janesville)
Darion Hanson (Aston, Lone Star)
Josh Passolt (Aberdeen)
Calgary Flames
Ronnie Hein (Aberdeen, Corpus Christi)
Mason Morelli (Minot)
Corey Schueneman (Michigan)
Carolina Hurricanes
Jake Kucharski (Austin)
Jack LaFontaine (Janesville)
Chicago Blackhawks
Devin Cooley (Springfield)
Mikael Hakkarainen (Brookings)
Stefanos Lekkas (Springfield)
Mareks Mitens (Aston)
Jonny Sorenson (Fairbanks)
Colorado Avalanche
Filips Buncis (Johnstown)
Columbus Blue Jackets
Derek Barach (Lone Star)
Henry Graham (Springfield)
Austin Rueschhoff (MN Wilderness, Janesville, MN Magicians, Austin)
Peter Thome (Aberdeen)
Michael Underwood (Aston)
Jake Veri (Lone Star)
Johnny Walker (Minot, Topeka)
Dallas Stars
Tomas Sholl (Fresno)
Detroit Red Wings
Alec McCrea (Janesville)
Florida Panthers
Ryan Bednard (Johnstown)
Stefanos Lekkas (Springfield)
Zach Solow (Janesville)
Los Angeles Kings
Adam Goodsir (Wichita Falls)
Blake Lizotte (Minot)
Minnesota Wild
Brandon Bussi (Amarillo, New Jersey)
Louie Roehl (MN Wilderness)
Nico Sturm (Corpus Christi, Austin)
Montreal Canadiens
Vinnie Purpura (Johnstown)
Nashville Predators
Lukas Craggs (Janesville)
Ethan Haider (MN Magicians)
Dylan Moulton (Chippewa)
Ben Schultheis (MN Magicians)
Tomas Vomacka (Corpus Christi)
Josh Wilkins (Austin)
New Jersey Devils
Akira Schmid (Corpus Christi)
Cole Brady (Janesville)
New York Islanders
Yu Hikosaka (Topeka, NA3HL alum)
Grant Hutton (Corpus Christi, Janesville)
Justin Jallen (Northeast)
Zach Jordan (MN Wilderness)
Trevor Smith (Northeast)
Ludwig Stenlund (Odessa)
Ottawa Senators
Jakov Novak (Janesville)
Mads Sogaard (Austin)
Philadelphia Flyers
Carson Briere (Johnstown)
Seamus Donohue (Wichita Falls)
Colin Felix (Janesville)
Pittsburgh Penguins
Roman Ahcan (Brookings)
Brandon Hawkins (Texas)
Matt Jurusik (Janesville)
Jon Lizotte (Minot)
Tommy Nappier (Springfield)
Quinn Preston (Topeka)
Jared Spooner (Bismarck)
San Jose Sharks
Mike Robinson (Springfield)
Andrew Shortridge (Aberdeen)
St. Louis Blues
Jack Caruso (Brookings)
Pat Curry (Springfield)
Jakub Dobes (Topeka)
Casey Gilling (MN Wilderness)
Jared Kucharek (Lone Star)
Taylor Schneider (Brookings)
Tampa Bay Lightning
Cole Koepke (MN Wilderness)
Kristian Oldham (Kenai River)
Toronto Maple Leafs
Nick Abruzzese (New Jersey)
Trey Bradley (Wenatchee)
Devin Cooley (Springfield)
Brennan Kapcheck (Aston)
Vancouver Canucks
Paul DeNaples (WBS Knights)
Jake Kielly (Austin)
Brogan Rafferty (Coulee Region)
Vegas Golden Knights
Bray Crowder (Johnstown, Amarillo)
Brandon Kruse (Brookings)
Isaiah Saville (MN Magicians)
Washington Capitals
Kristofers Bindulis (Soo, Aston)
Mitchell Gibson (Lone Star)
Janis Jaks (MN Wilderness)
Benton Maass (Fairbanks)
Winnipeg Jets
Croix Evingson (Shreveport)
Westin Michaud (Corpus Christi)
Logan Neaton (Fairbanks)
Rourke Russel (Wichita Falls)
Nathan Smith (Aberdeen)
Reid Stefanson (Minot)