NAHL has six players selected in 2019 NHL Draft
June 22, 2019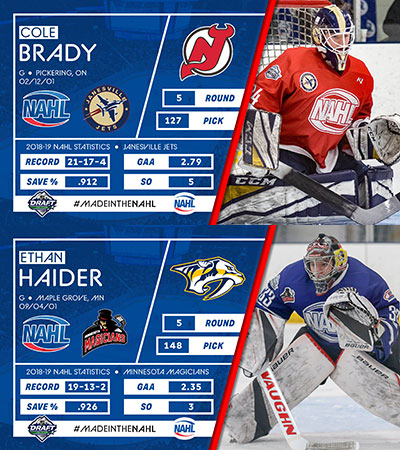 It was another big day for the NAHL at the 2019 National Hockey League (NHL) Draft wrapped up its second day on Saturday, June 22nd at the Rogers Centre in Vancouver, British Columbia.
In all, six players that play or have previously played in the NAHL were taken in the 2019 NHL Draft.
"It was another great year for NAHL players past and present at the NHL Draft. This is a result of their hard work and our continued mission of providing more and more exposure opportunities while they are playing in the NAHL," said NAHL Commissioner Mark Frankenfeld. "We really enjoyed have all of our NAHL coaches at the event and it was a fun and productive weekend. We continue to see incredible numbers of NHL scouts at our events and because our players are competing at such a high level, we have been able to enjoy continued success at the NHL Draft. We congratulate all those players selected."
The first player off the board was former NAHL and Austin Bruins goaltender Mads Sogaard, who was selected in Round 2, Pick #37 overall by the Ottawa Senators. Sogaard, 18, began his NAHL career with the Bruins playing in 22 games during the 2017-18 season. The 6'7/196 lbs. native of Aalborg, Denmark, went 11-7-0-2 with a 2.54 goals-against average and .909 save percentage.
"I was told about Mads from a former coach of mine, Mark Peterson," said Bruins Head Coach and General Manager Steve Howard. "Mads was still in Demark at the time and trusting the word of my friend and former coach, we signed him sight-unseen. He's a special player and was everything I was told he would be. He's big, athletic, and can stop a puck."
Following Sogaard, the next player with NAHL ties that was selected was former New Jersey Titans forward Nick Abruzzese. The 5'9/163 lbs. native of Slate Hill, New York was selected by the Toronto Maple Leafs in the 4th round, #124 overall. Abruzzese played a part of the 2016-17 season with the Titans in the NAHL.
The next player selected was Janesville Jets and NAHL Top Prospects goaltender Cole Brady, who was selected by the New Jersey Devils in Round 5, #127 overall.
Brady, 18, was a reliable workhorse for the Jets in a season of transition. The NAHL rookie helped provide stability for the Jets through scoring droughts and leadership changes both behind the bench and in the locker room. Only six other netminders played more minutes than Brady (2,534) last year, and only five goalies made more saves (1,347). Brady was selected to and played in the 2019 NAHL Top Prospects Tournament.
"It's amazing," said Brady in a phone interview. "You just look back on all the things you've done over your career, people who helped you get to where you are. You work your whole life for something like this. To see my name and get this experience…I'm just so grateful for the things people in my life have done for me to get here. Janesville is so sentimental to me. I mean, I was drafted here. So many people helped me here, from my coaches, my teammates, to the people who run the organization. I've got nothing but great things to say. Janesville will always have a solid place in my heart for allowing me to be successful here."
"When the conversation is about roster construction, every hockey coach will talk about building from the net out," said Jets head coach Corey Leivermann. "Janesville is no different. Here, we had some changes to battle through last season, and Cole was the team's backbone who helped us through those times. He kept us in every game and even won us a few we probably shouldn't have."
The next player selected was former NAHL and Minnesota Magicians goaltender Isaiah Saville. The 6'1/180 lbs. native of Anchorage, Alaska, played the 2017-18 season with the Magicians. Saville was one of the league-leaders in goal, posting 21-13-4 record in 41 games played, which included a 2.41 GAA and .927 save percentage. He was named the Midwest Division Goalie of the Year and was named to the All-NAHL 2nd Team and All-NAHL Rookie 2nd Team.
"Extremely honored to be drafted by Vegas. Proud to be a Golden Knights," said Saville on Twitter.
The next player selected was former NAHL and Fairbanks Ice Dogs goalie Logan Neaton, who was selected by the Winnipeg Jets in Round 5, #144 overall. The 20-year-old native of Brighton, Michigan, played in 24 games for Fairbanks during the 2017-18 season. Neaton (6'2/181) posted a 17-4-2 record with a 2.00 GAA and a .906 save percentage during his time in the NAHL.
The final NAHL player selected was Minnesota Magicians and NAHL Top Prospects goaltender Ethan Haider, who was selected by the Nashville Predators in Round 5, #148 overall.
Haider, 17, racked up several NAHL honors in his first season of junior hockey. The 6'2/207 lbs. native of Maple Grove, Minnesota, was named the Midwest Division Goaltender of the Year and also named to the All-NAHL Rookie 1st Team.
Haider, who played in the 2019 NAHL Top Prospects Tournament, played in 37 games during the 2018-19 season, posting a 2.35 goals against average and a .926 save percentage.
"Dream come true! Honored to be drafted by the @PredsNHL. Thanks to everyone who's helped along the way," said Haider on Twitter following his selection.