Austin forward Christy makes NCAA commitment
June 13, 2019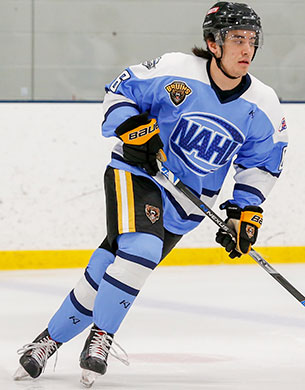 The Austin Bruins of the North American Hockey League (NAHL) are pleased to announce that Top Prospects forward
Jared Christy
has committed to play NCAA Division III hockey for the University of New England.
Christy, 21, spent the better part of two seasons in the NAHL playing 79 total regular season games between the Odessa Jackalopes and Austin Bruins.
While in Austin, the 5'11/185 lbs. native of Cypress, California registered 13 points (4 goals, 9 assists) in 21 games. Combined with his previous totals from Odessa (17 goals, 20 assists), Christy finished with 50 points in 2018-19 and ranked second on the Bruins in that category.
He was also selected to and played in the 2019 NAHL Top Prospects Tournament for the South Division team.
When asked about his time in the NAHL and Austin in particular, Christy replied, "The NAHL is one of the best junior hockey leagues to play in, and me playing in two different divisions really taught me a lot of things and improved my game in a big way. Austin is a great place to play junior hockey, I had a blast in that town for the four months I was there. Not only were my teammates and coaches amazing, but the fans and community were welcoming and caring."
Traded from Odessa at the end of January with Kyle Herbster, Christy got the chance to see the town of Austin's community involvement right away. His first home game with his new team was the Bruins' heralded Paint the Rink Pink game. A game in which he scored two crucial goals to and helped pave the way for a Bruins overtime win in front of a sold-out crowd.
Regarding Christy, Bruins Head Coach Steve Howard commented, "Jared came to us at the end of January and played hard for the Bruins from the moment he got here. We wish him the best of luck at the University of New England, and we know that he will be a quality hockey player and person for the school."
With Christy's commitment, all of the players who finished their final junior season with the Bruins have announced their intentions for collegiate hockey. including Christy, Lane Krenzen (Denver), Terry Ryder (Adrian), Dante Zapata (Utica), Andy Willis (St. Thomas), and Kyle Herbster (Milwaukee School of Engineering).
"I will continue to become a better person on and off the ice at the University of New England," said Christy, "and I will take everything that I learned in my couple years in junior hockey to college and beyond."