Former NAHL MVP Maroon wins Stanley Cup with hometown Blues
June 13, 2019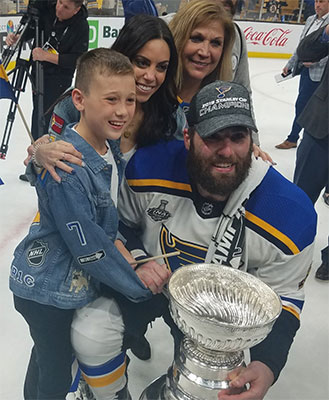 St. Louis Blues and former NAHL forward Patrick Maroon grew up just 15 miles south of St. Louis.
Maroon's father, Philip, played Division I soccer at St. Louis University before moving back to Oakville to run a real estate business. He loved soccer and football and was incredulous when his youngest son said he wanted to try hockey. But Philip Maroon embraced it and bought two season tickets at the old St. Louis Arena.
Maroon was always a bigger kid (his nickname was "Fat Pat"), but gifted in hockey, and began playing in the North American Hockey League for the Texarkana Bandits during the 2005-06 season as a then 17-year-old.
"I was slow, I was fat," Maroon said.
But Kelly Chase, the former Blues winger, thought Maroon also had good hands and skills. "I know a hockey player when I see one," Chase said.
Chase recommended Maroon to Bandits scout John Burkart (now a scout for the Tampa Bay Lightning), who told Chase, "We're not going to blow a tender (offer) on him."
Then Chase brought Bandits head coach Jon Cooper to see Maroon play.
Cooper, now the current head coach for the NHL's Tampa Bay Lightning, didn't like the shape Maroon was in, and his skating wasn't stellar. But Maroon had great hands and vision. But did he have the drive?
"No question he was a hidden talent," Cooper said. "An untapped talent."
"He took a chance," Maroon said. "And the rest is history."
During that first NAHL season in Texarkana, Maroon recorded 60 points in 57 games and was named to the NAHL's All-Rookie Team.
The Bandits moved to St. Louis the following year, when they won the first of back-to-back Robertson Cup National Championship titles.
Their first of those titles came in 2007 when the Bandits defeated the Mahoning Valley Phantoms 8-4 on May 6, 2007 in Fairbanks, Alaska. Maroon, who was the league's MVP that season with 95 points in 57 games played, recorded an astounding 23 points in just 12 playoff games on the way to the title, which included a hat-trick and an assist in the Championship game.
Maroon's 23 points still stands as the NAHL record for most points in a single post-season.
Maroon couldn't have imagined being a part of the first Cup championship in the Blues' 51-season history after they defeated the Boston Bruins 4-1 in Game 7 of the Stanley Cup Final at TD Garden on Wednesday.
"We've been waiting for this for so many freaking years," Maroon told NHL.com. "And to be from St. Louis and put this sweater on every night, holy cow. We brought it. We brought it home."
Maroon had seven points (three goals, four assists) in 26 Stanley Cup Playoff games, including scoring the game-winning goal in the second overtime in Game 7 of the Western Conference Second Round against the Dallas Stars, after signing a one-year contract with his hometown Blues on July 10, 2018, leaving more money on the table to be closer with his family.
While handling the Cup on the ice, Maroon brought it down for his 10-year-old son, Anthony, to kiss.
"It's amazing. Look at him," Maroon said. "Who wouldn't want it like that being from St. Louis, signed in St. Louis, winning the Stanley Cup and bringing it home, being with my family and friends? I can't wait for these next few days. This is truly something I'll never forget. Me and my son will take this to our grave. We'll have memories for life."