NAHL announces results of 2019 Draft
June 5, 2019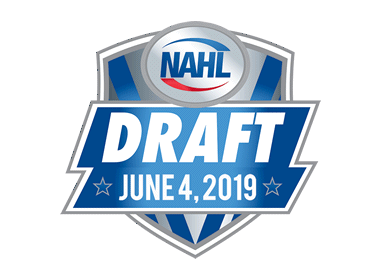 It is always one of the days that is circled on the calendar… the annual NAHL Draft. The 2019 NAHL Draft was held and completed on Tuesday, June 4th and the NAHL is pleased to announce the results of the 2019 Draft.
In total, 252 players were selected in the draft, which took just over three and a half hours to complete.
Click here to watch an archive of the draft through
HockeyTV
"The really is no end to a season and the NAHL Draft is a culmination of a year-long effort of hard work and analysis from all of our coaches and their scouting staffs. The NAHL Draft is all about providing an opportunity for the next wave of future NAHL players. We congratulate everyone who was selected and wish them continued success in their next steps toward playing in the NAHL," said NAHL Commissioner and President Mark Frankenfeld.
Both the Maine Nordiques and New Mexico Ice Wolves experienced their first-ever NAHL Draft's and had the #1 and #2 picks respectively.
With the first overall pick, the Maine Nordiques selected defenseman Casper Soderling from Nacka, Sweden.
With the second overall pick, the New Mexico Ice Wolves selected goaltender Josh Graziano. The Williamsville, New York native played last season for Madison in the USHL and Brantford in the OJHL. During the 2017-18 season, he played in the NAHL for the Coulee Region Chill and also saw time with the NTDP team.
The first forward taken was by the St. Cloud Blizzard with the #3 overall pick as they selected Elk River, Minnesota native Austen Humphrey.
Breakdown of positions drafted:
Forwards: 156 (62%)
Defense: 74 (29%)
Goalies: 22 (9%)
Breakdown of teams/levels/leagues where players were selected from:
Canadian Junior: 68
18U: 46
NA3HL: 26
High School: 24
Other Tier III Junior: 24
Prep School: 23
USHL: 17
16U: 12
European Junior: 9
NAHL: 3
Birth year breakdown:
1999: 60
2000: 99
2001: 75
2002: 17
2003: 1
Each team's protected list now stands at 30 players. All rosters must be reduced to 25 players by September 1st and 23 players by October 1st.