New Jersey defenseman Manoukian makes NCAA commitment
May 23, 2019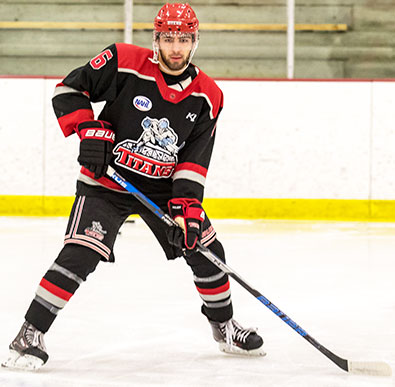 The New Jersey Titans of the North American Hockey League (NAHL) are proud to announce that defenseman
Eric Manoukian
has committed to play NCAA Division III hockey at Endicott College for the 2019-2020 season.
Manoukian is a 20-year-old defenseman from Manalapan, New Jersey and spent the last two seasons in the NAHL with the Titans. In 93 career games, Manoukian recorded eight goals and 28 assists for 36 points.
In the 2018-19 season, he served as an alternate captain while putting up four goals and 21 assists in 46 games. Titans head coach Craig Doremus spoke about Manoukian's accomplishment and what it means for the team to have yet another player move on to the NCAA level.
"The goal of junior hockey, as much as people want it to be about winning and getting the Robertson Cup, it's about moving kids on to the NCAA level. Eric has worked long and hard, and has been a good member of this team for two years. Endicott is getting a really good hockey player and a really special human being," Doremus said.
Endicott College is a Division III program located in Beverly, Mass. and competes in the Commonwealth Coast Conference. The Gulls are currently led by head coach R.J. Tolan. Manoukian spoke about his commitment and what it means to continue playing hockey at the NCAA level.
"It means the world to get the opportunity to continue my hockey career and earn an education at the same time in a school that will prepare me for the real world. I'm so excited to get things going," Manoukian said.
He also talked about his growth and development in the two years he spent in Middletown. Throughout his tenure with the Titans, Manoukian turned into a formidable two-way defenseman that was able to play in any situation that was asked of him.
"All credit to the coaches Craigy and Bobby (DiRico). To be fair they would give you a better answer than I would, but coming in two years ago I was nothing like the player I am today. From skills sessions in the summer, to systematic practices and battle days. My development as a person and a hockey player under the coaching staff has been exponential," he said.
Doremus spoke about Manoukian's growth as a player as well as the leadership he provided both on and off the ice for the team.
"Obviously as a rookie you're trying to break in and sow your oats get your feet under you a bit. I think Eric went through some of those growing pains last year early on the ice. As he established himself with more and more confidence on the ice, his role off the ice has increased as well," Doremus said. "He was one of our assistant captains and was a vocal and emotional leader for us in the dressing room. On the ice he plays in every situation and plays in big minutes. As he's gotten bigger and better, the time and responsibility has been given more and more to him and he responded greatly to it."