Fairbanks defenseman Borgida makes NCAA commitment
May 23, 2019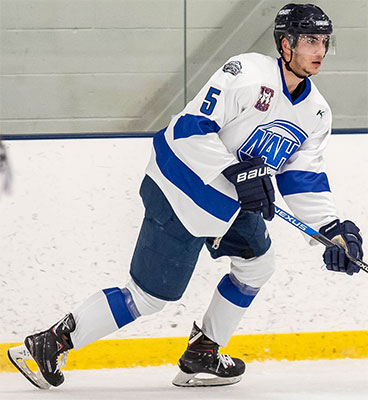 By Danny Martin, News-Miner
In one week, Fairbanks Ice Dogs defenseman
Jake Borgida
went from preparing to play for the North American Hockey League's Robertson Cup to preparing for college hockey.
Borgida and the rest of the Ice Dogs battled the Aberdeen (South Dakota) Wings for the NAHL's prized trophy on June 14. The Ice Dogs lost 2-1 in the title contest in the Fogerty Ice Arena in Blaine, Minnesota, about 18 miles from Borgida's hometown of Minneapolis.
On Tuesday, Borgida was back home and preparing to be a student at Trinity College and help its men's hockey team with battles against opponents in the upcoming season. The 6-foot-3, 185-pound blueliner recently committed to the NCAA Division III program in Hartford, Connecticut and the New England Small College Athletic Conference.
Borgida had been in contact for about a year with Matt Greason, who recently completed his eighth season as the Bantams head coach.
In March, the Bantams captured the NESCAC tournament title for the third time in the last four years and earned the program's fifth conference regular-season title. Trinity lost to the University of New England in the first round of the NCAA Division III Tournament in Hartford.
"I feel like I have a really good connection with him (Greason)," Borgida said by phone Tuesday. "Their program has done very well in the NESCAC conference for the past five to 10 years since he's been there. And the academics as well.
"I feel like it's going to put me in a really good spot for after college. I can't play hockey forever, but obviously make it and go as long as I can. I'd love this (Trinity) be a great fit and be able to do both there (academics and hockey)."
Borgida said he is considering working toward a prehealth degree at Trinity, and he's looking at attending medical school after earning his bachelor's degree.
He'll be involved this summer with job shadowing a neurosurgeon at Hennepin County Medical Center in Minneapolis.
The Robertson Cup tournament was his last involvement with the Ice Dogs, though he was eligible for another season with the Tier II junior A program.
"I do have the extra year but I've decided to go to Trinity next year (this fall)," Borgida said. "After two years, I feel ready to move to the next level and I feel excited about it. I can't thank the Ice Dogs enough for the opportunity I got to play there (Fairbanks)."
The Ice Dogs appreciated Borgida's contributions in two seasons.
"He's good skill set, he was great on the penalty kill and he's got a really good stick," Ice Dogs head coach Trevor Stewart said by phone Monday.
Borgida skated in all 10 postseason games this year for the Ice Dogs — three each in the Midwest Division semifinal and championship rounds, and four in the Robertson Cup National Tournament.
In the regular season, he contributed three goals and 14 assists for 17 points in 55 games. He was also selected to and played in the 2019 NAHL Top Prospects Tournament for the Midwest Division team. He posted 4-6-10 totals in 39 games in 2017-18.