Ice Dogs and Wings advance to Robertson Cup title game
May 13, 2019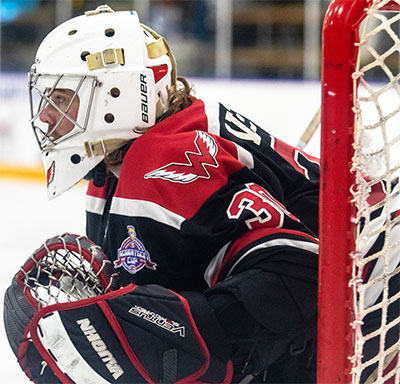 Robertson Cup Semi-Final #1, Game 3: Fairbanks Ice Dogs 6 vs. Johnstown Tomahawks 3 (Fairbanks wins series, 2-1)
– On the strength of a four-goal 1st period, the Fairbanks Ice Dogs jumped out to an early lead and survived a furious comeback attempt by the Johnstown Tomahawks to pick up a 6-3 win in Game 3 of the Robertson Cup Semi-Finals and advance to Tuesday's National Championship Game. The Ice Dogs converted early and often in the opening frame. The Ice Dogs scored just over two minutes into the game after the Tomahawks turned the puck over when Matt Koethe finished a pass from Luke Ciolli for a 1-0 lead. Fairbanks increased their lead to 2-0 with a power play goal from Noah Wilson just 48 seconds later. Tanner Edwards made it 3-0 Ice Dogs at the 4:15 mark of the first period. Edwards notched his second goal of the game at 15:14 to send the Ice Dogs into intermission up 4-0. The Tomahawks started their comeback attempt with an early goal from Cam Hebert at the 5:41 mark of the second period. Christian Gorscak cut the Ice Dogs lead to 4-2 with his second goal of the playoffs at 17:02. The Fairbanks lead was diminished to 4-3 when Andy Nedeljkovic deflected a Chris Trouba shot past Mattias Sholl. In the 3rd period, Jonathan Sorenson restored the Fairbanks two-goal lead with a goal midway through the frame to put a halt on the Tomahawks comeback attempt and then Brendan MacLaren added the sixth Fairbanks goal in the empty net for a 6-3 final score. Ice Dogs goalie Mattias Sholl made 27 saves in the win. Carter McPhail took the loss after making 9 saves in the 1st period. Cooper Lukenda came in the game to start the 2nd period and stopped 13 of 14 shots in the game during two periods of work.
Boxscore
Robertson Cup Semi-Final #2, Game 3: Aberdeen Wings 3 vs. Amarillo Bulls 0 (Aberdeen wins series, 2-1)
– Aberdeen Wings goalie Matt Vernon stopped all 30 shots that came his way to lead his team to a 3-0 shutout win in Game 3 of the Robertson Cup Semi-Finals and clinch a spot in Tuesday's National Championship Game. The Wings jumped out to a 1-0 lead less than three minutes into the game as Jonathan Bendorf shelved a shot over the shoulder of Bulls goalie Jason Grande for what would be the eventual game-winning goal. Late the 2nd period after both goalies were able to make several spectacular saves, the Wings pushed the lead to 2-0 thanks to a goal from Max Salpeter, who was left alone in the high slot and buried a shot past the blocker of Grande. Vernon and the Wings held the Bulls scoreless through the 3rd period and John Sladic added an empty-net goal to secure the 3-0 win and spot in the title game for the Wings. Grande made 20 saves in the Bulls loss.
Boxscore