Teams celebrated at Robertson Cup Dinner of Champions
May 9, 2019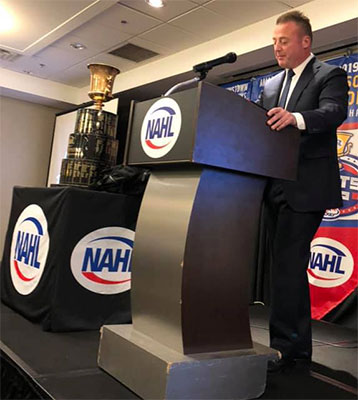 The 2019 NAHL Robertson Cup Dinner of Champions took place at the ballroom at the Radisson Hotel in Roseville, Minnesota, as the NAHL rolled out the red carpet for the four teams.
The players and staff of the Johnstown Tomahawks, Amarillo Bulls, Aberdeen Wings, and Fairbanks Ice Dogs, along with the NAHL staff were treated to a night of reflection and celebration on the eve of the 2019 Robertson Cup National Championship.
The players were provided about some facts about the Robertson Cup, which included some of the notable names on the trophy. It is the ultimate symbol of team accomplishment and each team walks together forever as the National Champions of the North American Hockey League. There are over 1,200 names on the cup ranging from owners, coaches, players and staff. The Robertson Cup also may be one of the heaviest Championship trophies in all of sports, as it weighs in at a robust 57.8 pounds.
The players were then greeted to a highlight video, which featured some of the most memorable plays from the season by each of the four teams, followed by the calls then sent all four to Minnesota for this year's tournament.
Following that was a speech from keynote speaker Frank Serratore, the head coach of the Air Force Falcons. Serratore spoke specifically about his roots playing junior hockey and how it helped him grown up and become a man.
"I am a product of junior hockey and I like the substance that the players have. We like the way the NAHL operates and like the product. This league separates the contenders from the pretenders and the men from the boys. It shows you who truly loves the game and is in it for the long haul," said Serratore. "Players learn to deal with adversity. There is not a player in this room that hasn't overcome some type of adversity. Those are the type of players we look for. They have no quit in them."
Serratore continued, "You have four great teams here, but only one can win it. There are two main things that you can control, your attitude and work ethic. I think that is what separates the teams in this room. It is not only a reflection of what you have done in the playoffs, but what you did during the regular season. All of you are on the right track and now its is about staying on the right track and making a difference in life."
The dinner was then concluded by a speech from NAHL Commissioner and President Mark Frankenfeld, who congratulated and thanked the four team's owners and coaches. "Players, maybe one day you will look back on all this and truly appreciate the sacrifices that each of these owners and coaching staff's has done for you. They have a passion like you do and your success is something that continues to drive them each and every day," said Frankenfeld.
"This weekend is about players giving up everything for their teammates. This whole season has been about some incredible competition. Our players have never been better. They may not know it now, but playing junior hockey will be one of the most memorable times in their lives. It is all about trying to take advantage of the situation and learning from it. We hope their experience playing in the NAHL is one they will remember forever."