Tomahawks, Bulls post Game 5 wins to round out Robertson Cup field
May 6, 2019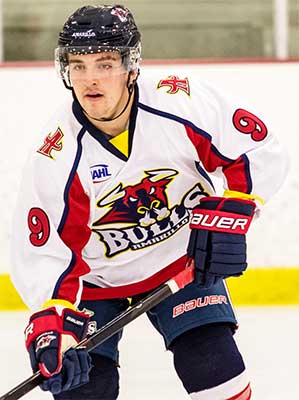 East Division Finals, Game 5: New Jersey 0 @ Johnstown 5 (Johnstown wins series 3-2)
- The Johnstown Tomahawks dispatched the New Jersey Titans in five games in the East Division Finals with a 5-0 win at 1st Summit Arena on Sunday. The Tomahawks and Titans started the game tentative with either team not wanting to make a crucial mistake. Some outstanding goaltending from Johnstown goalie Carter McPhail and Titans goalie Brandon Perrone kept the game scoreless as both teams entered the first intermission. The Tomahawks broke through in the 2nd period and potted the game's first goal when Mitchell Hale centered the puck to an open Pavel Kharin who snapped a puck past Perrone for a 1-0 Tomahawks lead. Just 7:43 into the third period, the Tomahawks increased their lead to 2-0 when Cam Hebert backhanded a shot past a prone Perrone for his third of the post season. The goal was his second power play goal of the playoffs. Sam Solensky added to the Tomahawks lead when he finished a two-on-none breakaway. With the net empty, Mitchell Hale scored his second of the playoffs for a 4-0 Tomahawks lead. Chad Merrell made it 5-0 Johnstown with a power play goal late in the third period. McPhail stopped all 19 shots that came his way for the shutout win, while Perrone made 25 saves in the loss. With the win, the Tomahawks advance to their first-ever Robertson Cup Championship, where they will be the #1 seed.
Boxscore
South Division Finals, Game 5: Shreveport 0 @ Amarillo 6 (Amarillo wins series 3-2)
– Amarillo goalie Justin Evenson stopped all 29 shots that came his way to help the Bulls to a 6-0 win in Game 5 of the South Division Finals, punching their ticket to the Robertson Cup for the first time since winning the title back in 2013. Jason Brancheau had two goals and an assist in the win to pace the Bulls offensively. The Bulls set the tone early as just :54 seconds into the contest, the eventual game-winning goal came from Gabriel Seger. Brancheau would then later add Amarillo's second goal of the game midway through the period to make it 2-0. Any doubt on the outcome was put to rest in the 2nd period as the Bulls added three more goals to take a 5-0 lead as Jordan Venegoni, Alex Peterson, and Logan Jenuwine all lit the lamp. Brancheau would add another goal in the 3rd period as the Mudbugs pulled their goaltender to try and create some type of offense. Mudbugs goalie Leo Chuard made 18 saves in the loss, while Maiszon Balboa came in relief to make 14 saves. The Bulls now head to the Robertson Cup Championship for the first time since they won the cup back in 2013. They will be the #2 seed.
Boxscore