Saturday Scores: Wings win Central and head to Robertson Cup
May 5, 2019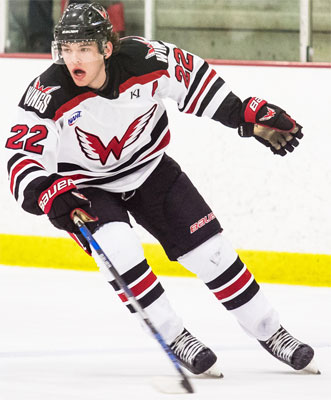 Central Division Finals, Game 4: Aberdeen 4 @ Minot 2 (Aberdeen wins series 3-1)
– The Aberdeen Wings jumped out to an early lead and fought off a comeback by the Minotauros to win Game 4 in Minot, 4-2 and capture the Central Division playoff title. With the win, the Wings become the second team to qualify for the 2019 Robertson Cup and will be making their second trip in the last three years to the event. After a scoreless 1st period, the Wings jumped out to a 2-0 lead with a pair of 2nd period goals from Jonathan Bendorf and Brad Belisle. Minot would storm back to tie the game thanks to a late 2nd period goal from David Raisanen and a goal early in the 3rd period from Vince Marino. However, the Wings snagged the lead back midway through the 3rd period with another goal from Bendorf, which was his second of the game and 7th of the playoffs. The Wings would secure the win late in the game thanks to an empty-net goal from Thomas Rocco. Wings goalie Matt Vernon made 25 saves in the win, while Nick Grabko made 22 saves in the loss.
Boxscore
East Division Finals, Game 4: Johnstown 3 @ New Jersey 1 (Series tied 2-2)
- The Johnstown Tomahawks forced a decisive Game 5 in the East Finals with a 3-1 win over the New Jersey Titans Saturday night at Middletown Ice World. The Tomahawks jumped out of the gate with plenty of shots on goal on New Jersey. Johnstown's hard work paid off when Sam Solensky chipped in a pass from Oliver Benwell past Brandon Perrone for a 1-0 Tomahawks lead. Just two minutes later, Roman Kraemer increased the Tomahawks lead to 2-0. Cameron Hebert assisted on the goal. It was more of the same in the second period as the Tomahawks continued to pressure the New Jersey zone. However, the Titans would cut the Johnstown lead to 2-1 with a goal from Ryan Naumovski. Benwell put the Tomahawks ahead 3-1 with a power play goal at 8:23 of the third period. The Toronto native stabbed at a loose puck in the blue paint to score his eighth of the playoffs. Johnstown withstood New Jersey's pressure late in the game to salt the game 3-1, which included 24 saves by goalie Carter McPhail in the win. Brandon Perrone made 25 saves in the loss.
Boxscore