Epic 3rd period comeback nets Bulls win in Game 3
May 2, 2019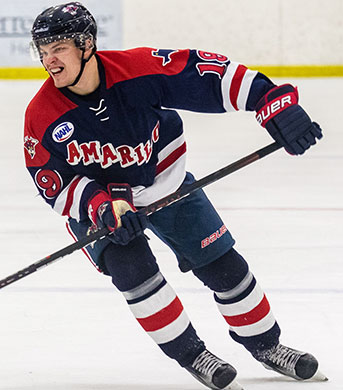 South Division Finals, Game 3: Amarillo 4 @Shreveport 3 (OT) (Amarillo leads series, 2-1) - The Amarillo Bulls pulled off an epic 3rd period comeback and then forward David Ojamae scored 4:18 in overtime to cap off erasing a 3-0 3rd period deficit and lift the Bulls past the Shreveport Mudbugs 4-3 in the third game of the South Division Championship. The Bulls lead the best-of-five series 2-1 and have a chance to advance to their first Robertson Cup in five years with a win on Thursday night.
Brett Abdelnour, Alex Peterson and Jason Brancheau scored for the Bulls in the final 20 minutes. Jason Grande posted the win in goal.
It was a slow start to the game for the Bulls and that allowed the hometown Mudbugs to dominate most of the first period. The Mudbugs raced out to a 2-0 lead in the 1st period thanks to goals from Warren Natyshak early in the period and Matt Weber later in the period. Mudbugs goalie Leo Chuard kept the visitors off the score sheet.
The Bulls came out much stronger in the second period with 13 shots, but were unable to push anything past the goaltender. Shreveport added its third goal as Anton Rubtsov tipped home a shot off the face-off.
However, it was all Amarillo in the third period thanks to some hard work at both ends of the rink. Alex Peterson got the Bulls on the board when he fired one past goaltender Chuard with help from Gabriel Seger. Four minutes later, Brett Abdelnour scored when Trey Bagwell kept the puck from the blue line and spotted Abdelnour open to finish off the play. With time winding down in regulation, the Bulls used a timeout to their advantage and then set up the scoring play to pull even as Jason Brancheau scored on a perfectly placed shot.
In overtime, David Ojamae scored on a great feed from Nick Trela to give the visitors the win. Jason Grande made 38 saves in the win, while Chuard made 38 saves in the loss.