Mudbugs ride Chuard to Game 1 win in South Finals
April 26, 2019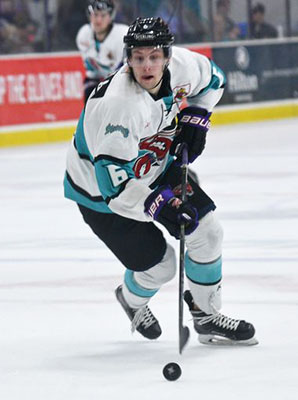 South Division Finals, Game 1: Shreveport 3 @ Amarillo 1 (Shreveport leads series, 1-0) – Mudbugs goalie Leo Chuard made 31 saves as his team opened up an early lead and fended off the #1-ranked Amarillo Bulls in a 3-1 win in the opening game of the South Division Finals at the Budweiser Bull Pen in the Amarillo Civic Center.
Timothy Clifton, CJ Regula and Jack Jaunich scored for Shreveport, while Cooper Fensterstock netted the Bulls lone goal in the second period.
It was a slow start to the game for the Bulls as the visiting Mudbugs were able to jump out to a 1-0 advantage on a goal :90 seconds into the contest by Timothy Clifton.
The Bulls came out with better jump in the second period thanks to the work of David Ojamae, Cooper Fensterstock, Nick Trela and Brendan West. After the Mudbugs grabbed a 2-0 lead in the first seven minutes from CJ Regula, the Bulls finally got on the board when Cooper Fensterstock banked a shot off the skate of goaltender Leo Chuard and into the back of the net to pull the team to within one.
The third period featured a defensive battle between the two teams as the Bulls were unable to get closer. Shreveport put the game away when Jack Jaunich covered a pretty passing play from the slot area.
Bulls goalie Jason Grande took the loss, making 25 saves